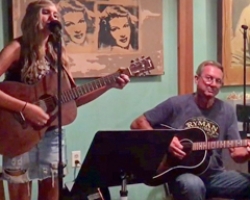 If 15-year-old Brennley Brown isn't on your radar yet, she soon may be. The Apple Valley teenager – who summers with her grandparents Kip and Elaine Kruse in Seal Beach – will be performing live on NBC's The Voice Tuesday night.
Brennley, a country music singer-songwriter, often performs at Bogart's when she is in town. She is on Team Gwen, with former No Doubt vocalist Gwen Stefani.
Last week Brennley performed Kelly Clarkson's "Up to the Mountain," in the Knockout Round, beating out other contestants to advance, finally, to the live show.
Each of the four judges on The Voice end up with five singers on their team when the live playoff shows air, Monday April 17 and Tuesday, April 18 in this instance. After last week's performance, Stefani said, "Brennley, you're an unbelievable surprise I didn't know I'd get."
In the live playoff rounds, the Top 20 artists compete to secure a spot in the live shows. Artists perform live, and America votes to save their two favorite artists from each team. The coaches then save one remaining artist to complete their roster. The remaining contestants move on to the final phase of the competition – the live shows.
In the final live-performance phase of the competition, the Top 12 artists compete each week against each other during a live broadcast. The television audience votes to save their favorite artists. The three artists with the lowest number of votes are eligible for the "Instant Save." These artists each perform a new song that represents why they should earn the save. Then, America has the opportunity to save their favorite performer by tweeting #VoiceSave along with the artist's name. The singers with the lowest number of votes are sent home each week. In the end, one is named "The Voice" and receives the grand prize of a recording contract.
For Brennley to remain at this stage, consider that she survived from a pool of 46,000 who auditioned and is now one of 20 live playoff performers.
Last month Brennley performed the National Anthem at the start of the Los Angeles Marathon.