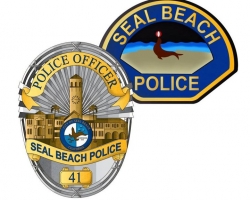 On Tuesday, April 11, 2017, at approximately 9:50 a.m., Seal Beach Police Officers received a call reporting burglary suspects inside the home in the 400 block of Jade Cove Way.  The homeowner, who was home at the time, heard a noise and went to investigate.  The suspects ran from the location and entered a vehicle.  A neighbor saw the vehicle and gave a description to West-Cities Communications Dispatchers.
A Seal Beach Police motorcycle officer saw the car entering the 405 freeway and pursued the vehicle into Long Beach.  The suspect car crashed at Palo Verde Street and Wardlow Street in long Beach. The suspects fled from the car.  All three suspects were captured soon after the car crash with the help of the Los Alamitos Police Department.
Tyre Sherman, 21, of Inglewood; Teral Sherman, 20, of Los Angeles and Brandon Medrano, 22, of Los Angeles, were arrested on suspicion of burglary and related charges.  All three were booked into the Orange County Jail.
The investigation is currently ongoing.  Police are asking anyone with information related to this incident to Detective Jeff Gibson at 562-799-4100 ext. 1109.