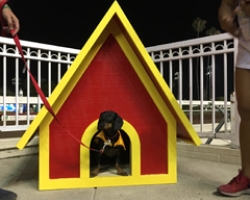 Katherine and Eddie Kishner's Baby Bo, a 1.5 year-old dachshund from Costa Mesa, turned into the boss baby of the 22nd running of the Wienerschnitzel Wiener Nationals after scoring a convincing come-from-behind victory in the 50-yard final on Saturday at Los Alamitos Race Course.
Baby Bo qualified for the final after winning his trial in a time of :05.80, a clocking that's believed to be the fastest ever in the history of the Wiener Nationals.
Saturday's paid attendance of 8,705 was only a wiener dog's lengths off the all-time record for the event of 8,731 set in 2007.
The total attendance was estimated at 10,500, and includes all children enjoying free admission to the event.
In the championship race, Baby Bo was slow out the wiener dog gate, but then flew in the final 20 yards to move ahead of early leader Milo, owned by Kristin Cortez of Whittier.
Once he took the lead, the young pup left no doubt that he's the new prince of wiener dog racing. A sleek, black colored doxie, Baby Bo, was racing for only the second time in his young life. He won the championship in a time of :07.05.
"The only time before tonight that we've raced was at the Old World Village dachshund races," Eddie Kishner said.
"He ran third in his debut there, but he liked racing in the Los Alamitos dirt a lot better. I think because it's a longer race here, and he can see me better. I can't believe it. As a pup, he was the runt of his litter. Nobody wanted him, and was last one left. We ended up buying him for $300," Eddie Kishner said.
Katherine Kishner grew up owning dachshunds her entire life. Her family owned as many as four doxies at one time.
"My wife and her whole family have always loved dachshunds," Kishner said.
To coax Baby Bo to the finish line, the Kishners show him a Frisbee.
"We play a lot of Frisbee with him," Kishner continued. "He loves to chase it."
In the Wiener Nationals final, it was other dogs chasing Baby Bo.
Baby Bo's victory earned him the title of Fastest Wiener In the West, $1,000 cash prize, and a doghouse in the shape of a Wienerschnitzel restaurant.
Daniel Carrillo's Slinky, who came in after winning the wiener dog final at Santa Anita Park, closed powerfully to catch Milo for second place.
Representing Valley Village, Slinky earned $500 for running second. Milo settled for third place.
The rest of the finalists were Terry Gard's Jack of Jurupa Valley, Allison Schreib and Jack White's Archibald The Great of Costa Mesa, Judy Myers' Dee G of Redondo Beach, Julie Woods' Darcy of Bankers Hill, Sam Portolese's Burt of Palm Springs, Mark Henderson's Peanut Butter of San Clemente, and Julia Gyokeresova's Molly of Redondo Beach. Darcy, the winner of last year's Wiener Nationals, was looking to become only the fourth two-time winner of the event. Her chances slipped after a slow start in the final.
The Wienerschnitzel Wiener Nationals is a fundraising event for the Seal Beach Animal Care Center, a non-kill shelter in Orange County.
The Wiener Nationals and SBACC have raised over $250,000 over the years.
This year's Wiener Nationals will raise an estimated $12,000 via ticket and T-shirt sales provided by Los Alamitos Race Course, plus a $5,000 donation also by Los Alamitos Race Course.
A touching moment
In one of the touching moments of the night, Deanna O'Neil's Lady Bug, who as a baby was given up on and left at a shelter because her previous owners believed she would never be able to walk, ran the entire 50-yard distance and crossed the finish line under her own power in the trial number six.
Her racing accomplishment was made possible by the California Rehabilitation Center (CARE), which provided Lady Bug with an opportunity to undergo daily physical therapy, acupuncture, and exercises on an underwater treadmill.
Her veterinarian ended up adopting Lady Bug and entering her to run in the Wienerschnitzel Wiener Nationals.
Lady Bug didn't just walk, she jogged all the way to the finish line.