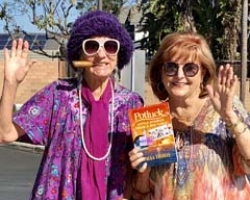 Aunt Gertie, with my childhood friend, Paula Strother Thomas. She is one of the funniest women you'll ever meet! A doggone hoot for sure! Her book, "Potluck, Little Stories from a Big Table" is stuffed full of delightful tales about Paula, the Strother clan (seven children!), and her fascinating life. She'll be at the Mary Wilson Library on April 25, fromx 3 to 4 p.m., for a presentation and lively discussion and to sign copies for everyone who'd love to have her book. It's a great read and I laughed so hard my cigar almost fell out of my mouth! Sheesh!
Paula and I met in 1953 when my family moved to Seal Beach. I remember visiting the Strother home on many occasions and loving the warm, quaint atmosphere she grew up in. She talks about her sisters, Kay and Cynthia becoming famous as the Bell Sisters in 1951. Their original song, "Bermuda" sold over seven thousand copies and they appeared in the movie, Those Redheads from Seattle with Rhonda Fleming and Teresa Brewer, during their busy career. Seal Beach loved them!
Paula, and younger sister, Alice, bought the Seal Beach Pet Store and had the experience of a lifetime. The Python named Monty broke out of his enclosure and nearly gave them a heart attack! They even had Macaws who got loose, flew up a palm tree and had to be rescued by the Fire Department.
Among her many hilarious adventures is the time she spent with her best friend, Yvonne De Armand. They were just like Lucy and Ethel from TV's "I Love Lucy" show. They even became cheerleaders at Huntington Beach High School in the '60s.
Her husband, Alan grew up on Catalina Island with a wild, adventurous spirit and a great sense of humor. Paula was eighteen when she met him and later they got together in Avalon during several summers to work their way thru college. They've now been married over 50 years!
You may contact Paula at PaulaThomasPotluck@gmail.com or call 714-321-2121.
Karen Hadley, creator of Aunt Gertie, can be reached by surface mail at Karen Hadley, PO Box 34, Seal Beach, CA 90740 or email at Yodelon@aol.com.