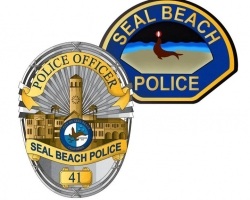 On Tuesday, Nov. 21, at approximately 5:27 p.m., the Seal Beach Police Department received a call of a grand theft from the AT&T Store, located at 12830 Seal Beach Blvd. According to store employees, two suspects entered the store and removed four phones and an Apple iPad from the display stands. One of the suspects used a knife to cut security cords attached to the phones and later brandished the knife at a store employee who attempted to follow him as he left the store. No one was physically injured during the incident.
The suspects fled in a light blue Toyota Camry, driven by a third suspect. The vehicle turned westbound on Lampson Avenue and fled in an unknown direction. The loss was approximately $5,000 in store merchandise. The investigation is ongoing.
Police are asking anyone with information about this crime to contact Detective Jeff Gibson at 562-799-4100 ext. 1109. Information can also be reported anonymously to the Orange County Crime Stoppers hotline at 1-855-TIP-OCCS or online at www.occrimestoppers.org.
Description of suspects:
Suspect #1
Black male adult, early 20s, wearing a grey hoodie sweatshirt
Suspect #2
Black male or female adult, early 20s, wearing a black hoodie sweatshirt
Suspect #3
Race, gender, and age range unknown; driving a light blue Toyota Camry