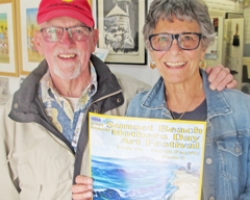 Recently, I was at Anderson Art Gallery in Sunset Beach and met Las Damas volunteer Terry Ferguson and her husband, Sparky of Huntington Harbour, who were distributing posters to businesses promoting the 51st annual Sunset Beach Mother's Day Art Festival. It will be on Saturday, May 12, and Sunday, May 13, from 9 a.m. to 5 p.m. at 12th Street and South Pacific.
The poster, "On the Beach" features the artwork of local oil painter Rick Blake.
He said the original 16 inches x 22 inches oil on canvas is available for sale and will be on display at his booth during the festival.
"The Art Festival weekend is very special to our residents," said Mike Van Voorhis, president of the Sunset Beach Community Association and a longtime resident. "You see neighbors that you have not seen over the winter. It's like a big reunion and is so much fun for everyone involved of all ages. Former residents come back to enjoy the Festival and reconnect with friends. It means summer (our favorite time of the year) is right around the corner."
"The festival is a real blessing. It blesses my heart to see such a wonderful community family event. I've never seen anything quite like it," said Sunset Beach Pastor Joe Pedick of Calvary Chapel of the Harbour. "If you've never been, come to it and enjoy this fabulous gathering."
Thanks to Las Damas for creating this event that dates from May 8, 1948. It was started by local women interested in promoting education and social activities. On July 10, 1948, they held the Beachcomber's Carnival which raised money to purchase the lot where the Sunset Beach Fire Station was created (now Nobles Family Community Center).
Today, the non-profit event makes possible education grants for those in the community heading to college or looking to change their career; art programs for our local schools; and charities for the mentally ill, homeless families and women in abusive situations.
For more information, If you haven't been to the festival, log on to: http://www.sunsetbeachartfestival.net.