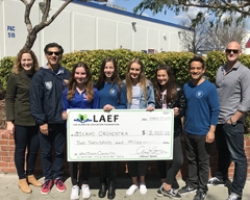 The Los Alamitos High School Orchestra has been invited to perform at the world-renowned Walt Disney Concert Hall as part of the 2018 Los Angeles International Music Festival.
This opportunity was given to only four groups, all of whom were required to audition.
The festival fee, although reduced because the Orchestra is a California-based group, was still quite an undertaking for the Orchestra Booster Club, who just recently received its 501c3 status in mid-2017. LAEF (Los Alamitos Education Foundation) heard about the situation and happily stepped in to help. LAEF's Board of Directors approved a donation of $2,000 to help fund the Orchestra's first-time-ever opportunity. The LAEF funds match parent donations raised through the Orchestra Booster Club and are part of LAEF's Ignite Fund.
Last week, LAEF Executive Director Carrie Logue presented a check to Los Alamitos High School Principal Dr. Brandon Martinez, Assistant Principal Kenneth Lopour and Orchestra Director Justin Padilla. Excited Orchestra Student Council Members joined administrators to receive the check.
Not only will the LAHS Orchestra perform at the prestigious Disney Concert Hall in June, but the performers will also participate in master class workshops and engage with international students at the festival.
LAEF is the non-profit partner of Los Alamitos Unified School District. LAEF enhances educational excellence by providing after-school and summer enrichment programs to children in grades Pre-K to 12. LAEF impacts all students by providing significant funding for STEAM teachers and instruction. For more information, call 562-799-4700 Ext. 80424 or email info@LAEF4kids.org today.