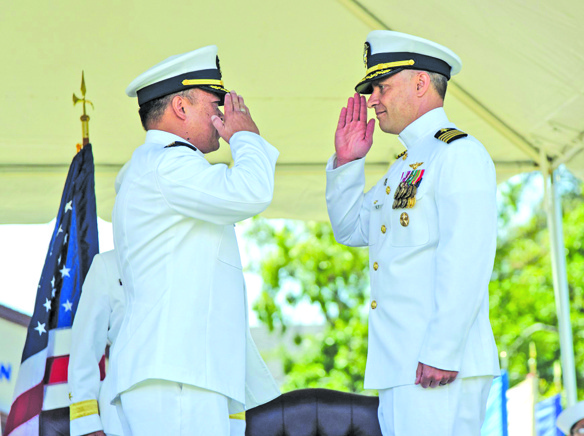 Naval Weapons Station Seal Beach held a dual change of command ceremony on July 26 at the installation's parade grounds.
Capt. Jason Sherman relieved Capt. Noel Dahlke as commanding officer of both Naval Weapons Station Seal Beach and Navy Munitions Command Pacific, CONUS West Division. 
A career officer and naval aviator with over 20 years of service, Capt. Sherman brings with him a wealth of operational experience, including over 3,200 flight hours in multiple aircraft types. 
His previous assignments include flight instructor for San Diego-based Helicopter Anti-Submarine Squadron Light 41, flying the SH-60B Seahawk; Lead Planner for the Theater Campaign Plan at the U. S. Southern Command; and Commanding Officer of Helicopter Maritime Strike Squadron 72, flying the MH-60R Seahawk.   
Sherman's most recent tour was as Operations Officer of the aircraft carrier USS George Washington (CVN 73). 
"Today is really a celebration of Capt. Dahlke, his extraordinary leadership, and a reflection of all the accomplishments that he and his team have achieved over the past three years," said Sherman. 
During Dahlke's tenure, Naval Weapons Station Seal Beach received a number of Navy-wide awards for environmental stewardship, energy and water conservation, and housing operations. The base also garnered back-to-back awards as best small installation in the region, and in 2017 won accolades as the best small installation in the Navy.
"For as long as our nation has had a Navy, the change of command has been done in roughly the same manner, so there is never any question about who is in charge," said Rear Adm. Bette Bolivar, the Commander of Navy Region Southwest. "For the last three years, there's been no doubt that Captain Dahlke has been in charge. His accomplishments have truly reflected our mission to 'enable warfighter readiness.' Everything he's done has been directed at living up to – and supporting – that mission."
"My time to pass my commander's guidance, vision, and expectations are over," said Dahlke. "I can only reflect, pass on my thanks and gratitude, and offer some parting words to the outstanding Sailors and civilians who make Naval Weapons Station Seal Beach and Navy Munitions Command Pacific CONUS West Division truly the greatest places and organizations my family and I have been a part of."
"I could not be more excited and honored to lead both the weapons station and the munitions command in this capacity," said Sherman. "I feel extremely blessed to be back in Southern California and call the community of Seal Beach our new home, and I look forward to writing the next chapter in the history of this storied weapons station."
Commencing operations in 1944 as a U.S. Naval Ammunition and Net Depot, Naval Weapons Station Seal Beach is the Pacific Fleet's premier munitions loading and storage installation.