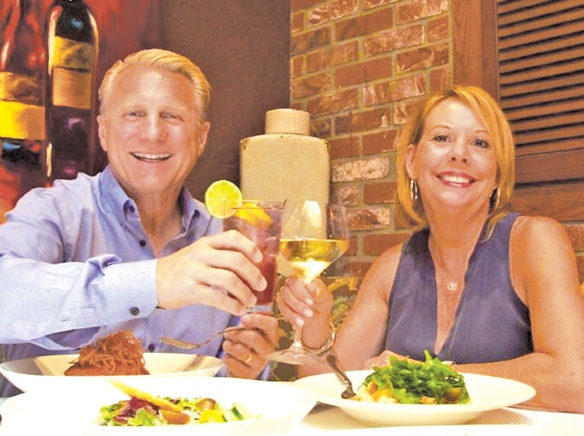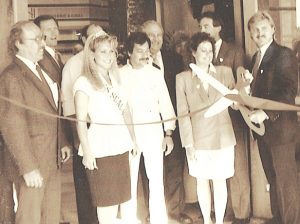 First of two parts
When you step through the front door of Spaghettini in Seal Beach, a captivating energy of warmth is already there to greet you. Ten steps in, friendly faces and the elegant surroundings melt into an atmosphere of joy, little different than grandma's house on her best day.
As they huddle in the corner office to reflect on more than three decades in business, owners Laurie Sisneros and Cary Hardwick are somewhat amazed, yet not surprised, at the scale of their success.
Hurtling now into its third decade, Spaghettini now spins off a burgeoning empire that includes food, music, entertainment and fun.
Hard to believe that, if not for the fact that these two people had worked for a short time at the same restaurant chain many years ago, the House of Spaghettini may not at all exist.
In the early 1980s, Laurie managed Baxter's Restaurant in Long Beach. Cary was also employed at Baxter's, and when he became training manager, the two became good friends.
Soon, both said they began to "burn out." Corporate management says Laurie, "does everything it can to take the joy out of the business." Whatever they did, the pair knew they would not follow a corporate path.
As the burn out accelerated, the pair began to seriously dream as they continued to discuss a big idea where they would develop their own concept for what a successful food and beverage operation should be. On their days off, they would get together and drive the area, stopping at other restaurants, sample menus and continue to frame their own idea. Back then, they still weren't sure what they wanted to build or how to do it. They did know that Laurie wanted Italian and Cary wanted a blend of the American West.
Remember, this was three decades ago and Orange County was vastly different. Seal Beach was a small city and had been overlooked by the big restaurant corporations because as Laurie recalls, "they only looked at numbers." Cary remembers being "young and naïve," but says they both knew they did not want to stay hooked to the ladder of corporate cuisine. As close as their friendship, for these two it has been all about business. Theirs has become a friendship of honesty and respect.
"We were married," jokes Laurie, "just not to each other." The pair was engaged only in a vision of the future. Then, as now, both now celebrate and enjoy each other's families.
In more than 35 years of teamwork, they cannot remember a single argument; strong opinions for sure, but no negative energy. Although an intricate working relationship, Cary is for sure a brilliant networker and idea man. Laurie is a really smooth operator, with the experience and business acumen to make them work.
Laurie, a New Jersey native, loved Italian cuisine. Cary, a Californian, loved open pits, and grew up with a grandmother who equated feeding people to sharing love.
On one excursion in 1986, the pair found 'a mound of dirt' where the restaurant now stands. There was nothing on the site except a sign that read "will build to suit."
"What does that mean," Laurie asked Cary? He wasn't sure either. "My brothers were attorneys so I started asking them questions," said Laurie.
They called the number on the sign and soon found themselves soon making a presentation at the Bixby Ranch Company in Long Beach, who owned the land.
Cary and Laurie loved the location because it was quite literally near the intersection of major freeways. From their restaurant experience, they knew their audience of potential customers. They understood the potential of the site and were not concerned that bigger food corporations had turned up their nose. "They (bigger corporations) were just looking at the demographics," said Laurie. "We knew better."
Both of them loved the Tuscan region of Italy even if Cary wanted a strong California segment. They "took the best of all of the concepts" and put together a one-page business plan. Their hearts still race when they recall facing a group of "men in suits." Slow and steady, the pair laid out their vision. Bixby's board listened intently to the two young entrepreneurs before announcing they "loved the idea." A legend was born.
At that point, they had a location but still no name for the business. Bixby agreed to fund $1.2 million in the "build to suit" portion. Cary and Laurie's accounting firm helped them raise another $1 million from local investors, who have ironically, stayed with the pair all these years and have become part of their growing family.
Laurie and Cary excitedly began to "plan their exits" from their current employers as the process took a year to develop, but construction was underway. They recruited top talent. They debated a menu. They were able to sign Jesse Barrington, then a chef of some note who worked with Cary at the Velvet Turtle.
Even by today's standards, they set out to build a massive facility, more than twice the size of the average American restaurant. "We were too young to know that an 11,000 square foot facility was a really bad idea," laughs Cary.
As it turned out, their vision was as uniquely perfect then as it is today. The restaurant would have five dining rooms, plus a covered patio, each of them intimate yet uniquely able to accommodate and cater to multiple groups of appropriate size. It would be like a micro village, separate rooms but all part of the same family, under the same roof.
They began narrowing down potential names for the enterprise, though none of them immediately jumped out. They finally settled on Spaghettini Rotisserie & Grill and cut the ribbon in June of 1988.
For more than 31 years, they have delivered on a brand promise of exquisite quality, extraordinary value all served in an atmosphere reminiscent of Cary's grandmother's idea in which food equals love.
According to Cary and Laurie, "we love what we do. People come here to celebrate birthdays, anniversaries, to close deals and whatever there is to celebrate."
Eventually, they dropped 'Rotisserie & Grill', Cary's open pit in the middle of the restaurant was removed and the name Spaghettini stuck to its growing community of fans like a perfectly cooked piece of spaghetti sticks to the fridge.
"We always, always exceed our customers' expectations," says Cary. According to Laurie, "people pay good money so it better be good quality. Nothing at Spaghettini comes out of a box or a bag," she said. "It's all organic and hand made."
But great food and exquisite service aside, there is something special about Spagahettini's. In a world where restaurants come and go, and many food service workers eke out a living on minimum wage, Cary and Laurie celebrate and share their success with their staff, now nearing 100 employees who in turn, pass the love and the philosophy of 'family' to their customers.
Current Chef Victor Avila has been with the "family" for more than twenty years. "We work like a family," he acknowledges. Avila enjoys great respect with the owners, the management, staff and most importantly, the customers. "I am very proud to represent the Spaghettini brand," he said. Avila began his career at Spaghettini when he was only 16 years old. Like most of their employees, Avila has been with the organization for a very long time. "Laurie and Cary put me on the right path," he says.
Laurie and Cary are incredibly proud of the fact that, at Spaghettini, even busboys and dishwashers are paid enough to send kids to college or buy a home. Naturally, "we celebrate every time one of our employees has a milestone." They routinely take employees on scouting trips to NAPA valley, and even Italy, to give them a sense of what's happening in the industry."
For Laurie and Cary, it's been a journey beyond their wildest expectations, but they are not yet finished. Their sights are now set on the future as they explore how best to amplify what has become more than a burgeoning culinary empire. By following their dreams, they have built a truly family enterprise, using a simple recipe of food, fun and a whole lotta love.
Next week: We will explore Spaghettini's music success, their connection with their customers, their global brand and how they are now even celebrating Spaghettini at sea.