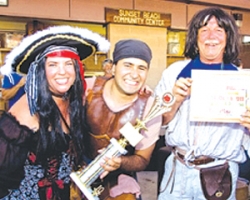 Before he died last year, Bob O'Neill started a Sunset Beach tradition that has become part of his legacy and that of the community and the home he was known to love.
To fellow Sunset folks, Bob was a "saucy" fellow who loved a good time and being in the thick of the fun. The fact that he is the person who started the Sunset Beach Chili Cook-off, an event that still helps define the seaside community, is no surprise to those who knew the friendly man with a smile that would make a pirate blush.
Bob O'Neill died earlier this year. However, his positive spirit and love of life lives on.
O'Neill's legacy will continue when friends of Sunset Beach gather for this year's chili cook-off that will honor his memory on Sept. 17 at the Sunset Beach Community lot at 12th street and Pacific Coast Highway in Sunset Beach.
O'Neill, who began the community event in 1998 and managed it for eight years before he moved away from the area. He will always be a part of the cook-off his friends said. With his passing, the Sunset Beach Woman's Club has taken over coordination of the event in partnership with the Sunset Beach Community Association.
Now in its fifth year, community members supporting the event plan to keep it going, despite the fact that the neighborhood, which is more than 100 years old is under pressure to give up its autonomy and take its direction from now on from the mega city of Huntington Beach.
This year's Chili Cook-off will also honor Sunset Beach's volunteer Fire Department, which was disbanded at the end of 2010. Part of the proceeds will go to the ongoing renovation of the Sunset Beach firehouse on 12th Street and its ultimate use as a place for the community of Sunset Beach to come together.
Chili teams will begin cooking early in the morning, doors open at 11:00am for chili tasting, admission is only a $5 donation. The teams this year are La Familia, Toy Muro & Jane Kellogg (last years judges choice winners, holders of the perpetual trophy). King Neptune's, Pelican Isle, Mother's, Star Real Estate, Don the Beach Comber, Mahé, Fuze Sports, Chimene Armstrong (Hill Billy Red), Carl Macon (Blood Sweat & Beers).
Our M.C. this year is Robby Armstrong and Party Jones band will be playing from 1:00pm. We will be selling limited edition tee shirts and aprons.
Local businesses have been very generous again this year organizers said. For example, Kayak Kenny of Sunset Rentals has donated a kayak. outspoken-n donated a beach cruiser currently on display in their Peters Landing store window. Sharp Corp. has donated a 32" HD TV. There are many other prizes including Mexico accommodations, dinner certificates to Gondola & Duffy boat rides. Tickets are only $1 each. Very reasonably priced refreshments will be offered along with all the fun of this community event. So come on down, meet your friends and neighbors. All proceeds benefit Sunset Beach Woman's Club and Community causes including local scholarships.
For more information, call Jennie Griffin at (562) 505-7558.