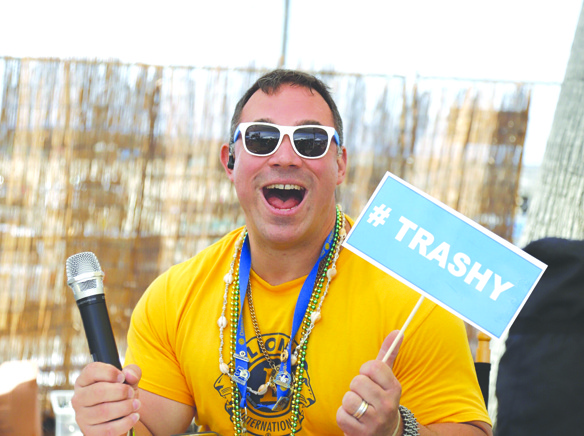 With approximately 1.7 million members participating in more than 50,000 clubs within 200 countries, the Lions Club International has become the largest non-governmental organizations in the world.
Long recognized as one of the top clubs within that organization, the Seal Beach Lions Club may soon have the prestige of having one of the very few certified Lions Club International presenters within its ranks.
"I'm truly honored," said Seal Beach resident Seth Eaker after announcing that he has been accepted to attend the Lions Club Institute (LCI) this fall.
Certification from this institute will qualify Eaker as an official LCI "Presenter," which he said is "the highest level of institutional training" available within the worldwide organization.
Out of thousands of applicants, Eaker is one of only 40 accepted.
During his tenure within the Seal Beach Lions organization, Eaker has twice served as President of the local club, in addition to his service in many Lions club district leadership capacities.
Currently, Eaker serves as Chair of the Global Leadership Team of the California Lions Club District 4-L4, where he coordinates training and responses for clubs within the district.
In that role, Eaker said he is tasked by Lions District Governor Mark Piva to organize and facilitate leadership, training and development for the 34 regional Lions Clubs within this district, affecting approximately 1,250 Lions.
Inclusion is nothing new for Eaker, who has long been ascendant inside the internal Lions Club leadership ranks.
Last January, Eaker completed the Lion's Faculty Development Institute, which qualified him as a "credentialed" member of the Lions Club faculty. As such, he is now certified to present, develop and facilitate certain Lions Club programs for leadership development.
To achieve this status, Eaker said he was invited to the California Leo Leadership Institute, where he developed and successfully defended a thesis entitled: "Strategic Planning with survey and analysis for forward leadership."
Since then, Eaker has already developed his own Lions Club Intellectual Properties, including a leadership program entitled "Strategic planning with utilization of electronic surveying and data analysis, both quantitate and qualitative."
As part of the Lions' Global Action Team (GAT), Eaker is also engaged with the Lions organization to develop and deliver programs for leadership, service and membership.
"Our mission is to have effective service programs," said Eaker, adding that "this is the goal that drives membership." With the Lions Club working in literally thousands of communities around the world, said Eaker, it is critical to develop programming for future leaders.
"Leadership programs serve to develop people who can lead and guide service delivery," he said.
Once he completes the LCI fall session, Eaker will then officially achieve the Club's highest presentation rank and will then be qualified to take these programs worldwide.
The LCI session begins next month, and Eaker said he is looking forward to reaching this milestone. Then, said Eaker, "I will be one of the few Lions who can teach or create material for LCI anywhere in the world."
Eaker will then have the certification to compose or deliver Lions programs anywhere in the world that fulfill the club's main service areas, including humanitarian, health, and economic projects within five broad categories.
Eaker said he is likely to become qualified as part of the faculty for the global Lions Initiative slated for Singapore in 2020. He said the Lions Club "serves the world, one community at a time."
"As a lifelong activist and citizen, I believe we need to grow leadership in our nation and create more global leaders; people who understand the level of vision and complexity required to navigate big problems with creative solutions because I don't believe government has all the answers," said Eaker.
Eaker has an MBA degree and is the owner of Black Mable Consulting. In addition to his volunteer role in the Lions Club, he remains active in many Seal Beach community activities.