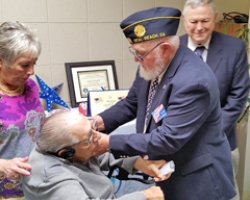 What are the chances of two heroes from the Battle of Iwo Jima living in Seal Beach? Turns out they do.
Two weeks ago, on the 72nd anniversary of one of the Pacific's bloodiest and most famous battles, local historian Michael Paziean profiled James Gay's experiences in the Seal Beach Sun.
More recently, two local Commanders of the American Legion and a U.S. Congressman presented honors to John D'Angelo, a 94-year-old retired staff Sgt. of U.S. Army Air Corps (Air Force) for his heroic photographs that chronicled the famous battle. D'Angelo is a native of California and, according to caregiver Laura Nalezny, he grew up in Hollywood under the sign and enlisted in the Army at 18, one year after the bombing of Pearl Harbor.
"He has led a fascinating life," she said. D'Angelo was assigned to the Army Air Corps, which became the U.S. Air Force, and began by performing communication tasks, relaying messages in Morse code.
Asked if he'd like to take pictures instead, he said yes and volunteered to fly with the gunners in B-24 bombers.
Based in Saipan, he flew with gunners in their preparatory air bombardment missions and was responsible for taking photos of the pre-invasion bombings of Iwo Jima prior to the U.S. Marine invasion.
He simultaneously took photos of the other bomber planes in formation with his bomber to create an immortal record of this famous battle that is memorialized.
U.S. Congressman Dana Rohrabacher visited D'Angelo recently along with Less Esslinger, a previous Commander of the American Legion post in Leisure World and Rich Carson, current Commander of the American Legion Post in Leisure World as his daughter, Linda Gentle looked on.
Rohrabacher presented D'Angelo with a United States flag that has flown over the U.S. Capitol as the representatives of the American Legion pinned a medal on him for meritorious service. D'Angelo, who served three years until the war ended, said while he appreciated all of the attention, he was only doing "what needed to be done for our country and enjoyed being a part of something important."