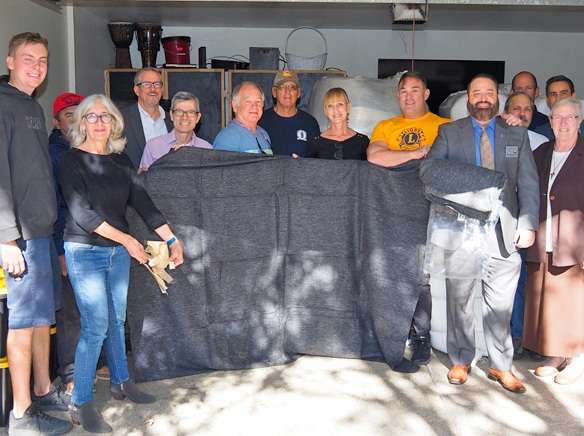 Chad Berlinghieri, Artistic Director of Cathedral Productions and Cantor of Saint Anne's Catholic Church was thankful to those who participated last Tuesday in the Isaiah House Blanket Project, which he called a success.
In addition to filling Isaiah House's garage with four pallets, with one thousand wool blankets, stacked six feet high, Pavilion's manager, David Erlitz also donated a Seal Beach Lions van full of food (driven by Lion Seth Eaker) in time for Thanksgiving. The products included twenty-five roasted turkeys, pumpkin pies, readymade meals and two spiral cut hams. There was enough sustenance to fill their dry storage, walk-in refrigerator and freezers for the immediate holiday weekend.
The 5×7 wool blankets are shipped from North Carolina, the textile capitol of the United States. Given the worthiness of the cause, they were provided to the organization at cost and after shipping cost only $6.25 per unit, while retailing for twice that online.
The positive response makes it very clear that Seal Beach cares, Berlinghieri said.
"That being said, we were able to fund the first $3,100 of the shipment and have the balance of $3,100 on ledger with the manufacturer who was kind enough to give us terms until Dec 31." Berlinghieri said. "Keeping in mind that last year we raised $12,000, which covered almost half of the shelter's yearly need."
"With the generosity of our community I know we will fulfill our obligation and continue working together towards providing them with an annual solution," he added.
"My singing career has taken me all over the World a couple of times now, and if you ask me Seal Beach is the place to be. Having lived in town for eleven years now our 'Mayberry by the Sea' is my hometown. With its people, the location, and local churches, it is very easy to understand how blessed we all are," Berlinghieri said.
On Dec. 14 (5 p.m.) and 15 (8 a.m., 10 a.m., noon and 4 p.m.) Berlinghieri will be giving an appeal for a second collection to benefit the Isaiah House Blanket Project at Saint Anne's. He noted that If anyone would like more information, they should consider coming to mass that weekend. Anyone wishing to make a tax-deductible donation, can do so via the website https://cathedralproductions.org/donations/music/.
The Knights of Columbus Council 9594 (which Berlinghieri is the Chancellor of) will be hosting a pancake breakfast benefiting the blanket project on Sunday morning, Dec. 15 after the 8 and 10 a.m. masses. Join them for the best blueberry, chocolate chip and buttermilk flapjacks in town while supporting those in need of warmth during our coldest season of the year here in Southern California. All are welcome, Belinghieri said.