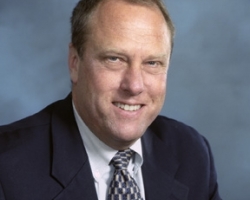 Seal Beach City Manager David Carmany's salary was on the agenda Monday night, Aug. 9. District 4 Councilman Gary Miller had requested a report on Carmany's salary on July 12.
His current salary comes to about $217,000 a year.
After a lengthy discussion, the council voted 3-2 to receive and file a report on salary increase Carmany had received under his contract since he was appointed on April 23, 2007.
Miller and District 1 Councilman Charles Antos voted no. Mayor David Sloan said there was no finding of impropriety in the report.
Miller said Carmany took an 8 percent pay raise meant for former Seal Beach City Manager John Bahorski just 27 days after Carmany was hired.
"Contractually, that appears to be possible," Miller said. However, he questioned the ethics of Carmany accepting the pay raise.
According to the staff report by Director of Administrative Services Robbeyn Bird, section 4.B (13) of Carmany's contract gave him the option of converting $7,500 in deferred compensation into salary.
In October 2008, Carmany took that option.
Miller pointed out that Carmany increased the number of days he can take administrative leave, which Miller said gave him an additional $7,000 in value.
Bird's report to the council said that Section 4.B (15) of Carmany's contract allows the city manager to receive all benefits and adjustments received by management employees.
Under that provision of the contract, Seal Beach received a monthly salary increase to $15,750 a month on July 1, 2007 under the executive and mid-management terms/conditions of employment that the council unanimously adopted on July 24, 2006.
The city increased Carmany's monthly salary to $16,333 on July 1, 2008.
Miller also pointed out that under his contract, Carmany automatically benefits from any pay raise given to management staff. Yet Carmany negotiates with mid-management on behalf of the city. Miller called this a conflict of interest.
Miller said salary and benefits should only be increased by the City Council.
Miller wasn't the only person to object to Carmany's salary. During the public comment segment of the council meeting, College Park East resident Patti Campbell complained that Carmany had given himself pay raises.  "He has no business giving himself any kind of raises," she said.
Campbell, a long-time critic of Carmany, said he had demonstrated that he was not honest by giving an architectural contract for the design of Fire Station 48 to a friend without disclosing his relationship with the architect to the council.
Joyce Parque, of Old Town, also criticized Carmany's salary.
"When he's negotiating with the police chief, he automatically gets a raise," Parque said.
"He's up to $217,000," she said.
Parque asked if Carmany would get a 90 percent pension if he left next year following the election of a new City Council.
"This is a mini-Bell that's getting ready to explode," Parque said.
She criticized the council for not doing its job.
"You're not representing the taxpayers," she said.
Parque asked if Carmany had a credit card from the city.
"This is like the city of Bell," she said. "Make it transparent."
Miller proposed removing sections 4.B (13) and (15) from the contract. Miller also proposed reducing Carmany's pay by 8 percent.
City Attorney Quinn Barrow said that because the contract is an agreement, Carmany would have to agree to the changes. He said the City Council could not unilaterally change the agreement.
Miller disagreed. Later in the meeting, he said the council could make the changes. It would be up to Carmany to sign the agreement.
"There's no reason not to modify the city manager's contract," Miller said.
District 5 Councilman Michael Levitt agreed there was a conflict of interest in having Carmany negotiate with the city's management group.
Barrow said that issue could be "cured" without changing the city manager's contract. He said the city attorney used to negotiate with city employees, but city employees didn't want lawyers involved.
Antos said it would be appropriate for the city manager to come out with a report when he negotiated with city employee groups and to have the report signed by the mayor or the mayor pro tem.  Antos said he saw it as informing the council of those provisions of the city manager's contract.
Sloan said that after reviewing the report, he found no impropriety and moved to receive and file the report.
Miller said he wanted to make additional comments.
Sloan called for a motion. The motion was made and seconded.
Miller said: "I want to divorce myself of anything unethical and I consider this unethical."