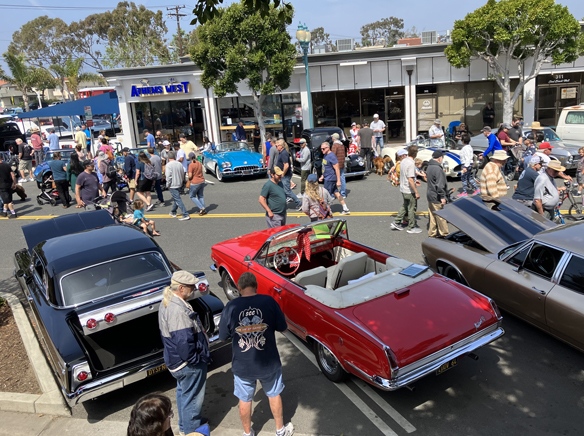 By Diana Bean
The 35th annual Seal Beach Car Show of Saturday, April 29, 2023, a resounding success, with the largest turnout of attendees and vehicles in the event's history. Car enthusiasts from all over came together to showcase their restored and modified vehicles, totaling more than 600 classic cars and hot rods on displayed in every corner of Old Town. The Car Show was presented by the Seal Beach Chamber of Commerce
The Seal Beach Car Show is one of the most highly anticipated events of the year in Seal Beach, and this year's show did not disappoint. Visitors were treated to an impressive display of cars from various eras and styles, including hot rods, muscle cars, and custom-built vehicles. The event also featured the opening ceremony National Anthem, sung flawlessly by 15-year-old Seal Beach resident, Jenna Currey, followed by the presentation of the colors, by Southeast County Young Marines with Chamber President Juni Banico as the emcee.
Crowd favorites this year included live music throughout the day from four bands playing on two stages, featuring Down the Hatch and Familiar Faces Band in the morning and OC Ragdolls and The King Salmon Band in the afternoon and a mouthwatering breakfast and lunch, provided by the Seal Beach Lions and awards ceremony where 54 trophies were awarded.
This year's event saw an increase in attendance with visitors from all over Southern California coming to enjoy the show, with sponsors showcasing their businesses throughout the park and pier.  "We are thrilled with the turnout this year," said event chair Tim Way. "It's amazing to see how much this event has grown over the years, and we're already planning for an even bigger and better show next year as we are sold out once again.
"The car show was an absolutely fantastic day! It was a beautiful day and had to have been one of the largest crowds in town for the car show, that's for sure," wrote City Manager Jill Ingram in a May 1 email.
Leading this year's Seal Beach Classic Car Show was Event Chair Tim Way, along with Co-Chair Gary Bean. Joining the Car Show again as Lead Judge was Darin Smith, local classic car builder at DWS Car Classics in Huntington Beach, supported by Co- Chair, Gary Bean and 38 awesome judges this year.  Trophies and the Awards Ceremony were organized by Diana Bean. Sponsors and Judges enjoyed refreshments and a relaxed atmosphere, compliments of Frank Carvajal of American Beachside Realty, Rosie Ritchie of The Beach House and McKenna's Tea Cottage.
The success of the 35th annual Seal Beach Car Show is a testament to the hard work and dedication of the volunteers and sponsors which include Title Sponsor Original Parts Group, Presenting/Band Sponsor G & M Oil, Westin Automotive, Guaranty Chevrolet, Torco Oil, Law Offices Justin R. Heim, Glowaki Chiropractic, Republic Services, Boeing, Stack Grooming, MyCBD Hub, CSI, Anderson Bros. and Sun Newspapers and our many trophy sponsors.
We look forward to welcoming everyone back to Seal Beach for the 2024 Car Show.
For more information about the Car Show, visit SealBeachCarShow.org or contact the Chamber at 562-799-0179.
Diana Bean is a sponsor chair of the Classic Car Show and an appointee to the Seal Beach Chamber of Commerce Board of Directors.