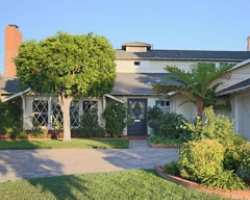 The Ho-Ho-Holidays are almost here, and the elves at the Rossmoor Woman's Club are busy for the 2017 Holiday Home Tour, a neighborhood tradition for more than 25 years. Tickets are on sale now for this year's tour, which is scheduled from 11 a.m. to 4 p.m. on Sunday, Dec. 3. During the event, visitors get into the festive spirit by viewing four remodeled, sea-sonally decorated homes in Rossmoor. Inspiring features abound in these homes, ranging from spacious, modern outdoor entertaining areas to timeless antique furniture, up-to-the-minute kitchens and even a unique "cowboy room."
Ticket holders are also welcome to take a break from the self-guided tour with refreshments, a silent auction and raffle at the Seal Beach Ayres Hotel Tea Room. Also during the day, Antica, a purveyor of fine olive oils and vinegars that is normally closed on Sundays, will be open, serving mimosas and biscotti to tour-goers. The shop, which is at 11110 Los Alamitos Blvd., has pledged 15 percent of the day's sales to the woman's club. Meanwhile, Marina Skin Care, at 10698 Los Alamitos Blvd., is holding an open house in conjunction with the tour and will serve Mimosas and have a drawing for products worth a total of $500. Tickets are $20 in advance and may be purchased from any RWC member or, for a $1 pro-cessing fee, buy online at www.rossmoorwomansclub.org. Advance tickets are also available at these locations:
• Antica Olive Oils, Balsamic Vinegars and Spices, 11110 Los Alamitos Blvd., Los Alamitos
• Cinnamon Stik, 10641 Los Alamitos Blvd., Los Alamitos
• Green Street Interiors, 10660 Los Alamitos Blvd., Los Alamitos
• McNally Electric & Lighting, 10792 Los Alamitos Blvd., Los Alamitos
• Pacific Coast Style, 6232 E. Pacific Coast Highway, Long Beach
• Prep Kitchen Essentials, The Shops at Rossmoor
• Sun Newspapers, 216 Main St., Seal Beach
Ticket prices rise to $25 on the day of the event. Tickets include a map and the addresses of the all sites on the tour.