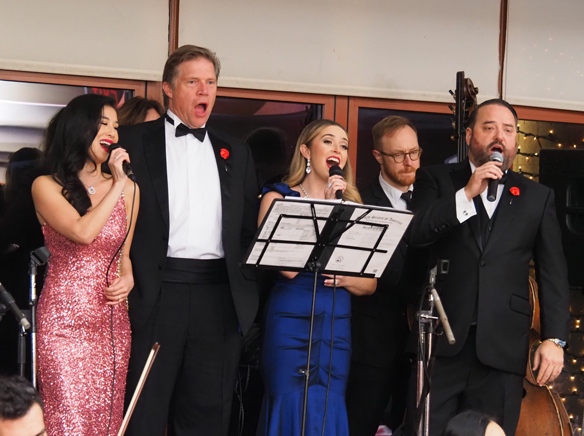 Love was indeed in the air and classical music was on the menu Saturday at Old Ranch Country Club in Seal Beach.
It was a night of big songs and bright stars as the Seal Beach Symphony presented its annual "Love Songs" Valentine's Day event.
Since the pandemic pause, the local classic music event has come roaring back, this year in spectacular fashion. Two Grammy® winners, a two-time Grammy® nominee, and several local classical musicians were on stage to perform for a packed house.
The powerhouse musical lineup included the Seal Beach Symphony Artist-in-Residence Teresa Mai, who performs under the name of Sangeeta Kaur. Kaur became the first Vietnamese artist to ever win a Grammy® in 2022 in the Best Classical Solo Vocal Album category. Kaur is also a composer and multi-media artist with her own recording studio (Studio Hill) in Austin.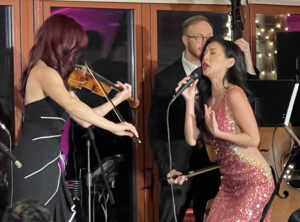 Also on stage and in the string section was Grammy-winning composer and violinist Nathalie Bonin, a Canadian musician who performed for the first time with the Seal Beach Symphony.
The Seal Beach Symphony had another special guest, two-time Grammy® nominee Rod Gilfry, a baritone, whose voice is known around the world, having played with symphony orchestras in most world capitals.
SBS Director Chad Berlinghieri, himself a tenor, also performed along with soprano Katie Dixon, rounding out the cast of singers who were the featured voices for the evening. They performed with a string ensemble that also featured Seal Beach's Jennifer Corday on cello.
The evening's entertainment appeared in three sets, interspersed with the evening's meal.
Gilfry, a baritone, opened the show with "If I Would Ever Leave You," from Camelot, followed by Dixon singing "My White Knight" from Music Man, Berlinghieri singing "Stand by Me," and Sangeeta Kaur closed the set with "I Dreamed a Dream" from Les Miserable.
The second set mixed things up with Dixon opening with "Wishing You Were Somehow Here Again" from Phantom of the Opera, Gilfry singing "My Funny Valentine" from Babes in Arms, followed by Berlinghieri performing a Four Tops' classic, "I Can't Help Myself."
The second set closed out with a sonic stunner from the two Grammy® winners, Kaur and Bonin. They performed a mesmerizing duet of voice and violin on "Lo Ti Penso Amore," (I Think I Love You). With Kaur's soaring voice answered harmonically by Bonin's violin, it was a musical tour de force that created an iconic moment for the upstart symphony.
"The crowd favorite was performed by two Grammy-winning artists," said Berlinghieri after the show, naming Kaur and Bonin.  "This was the first time I had ever heard this particular piece," he said, "so I know it was new to the audience."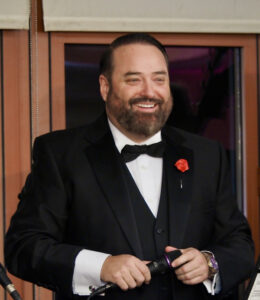 "The combination of soprano harmonizing with violin is really hard to beat," he noted, saying Kaur's searing soprano vocals mixed with Bonin's violin were "so incredibly complimentary of each other."
In the final set, Dixon got the music going again with "Goodnight My Someone," from the Music Man, Gilfry followed with "Some Enchanted Evening," from South Pacific (a song for which he is known around the world), as Berlinghieri and Kaur closed out with their own inspirational duet featuring "People Will Say We're in Love," from Oklahoma.
The entire ensemble reassembled on stage to close out the evening with a rousing "I Could Have Danced All Night" from My Fair Lady.
Toward the end of the evening, thoughts moved to the future of the Seal Beach Symphony.
Gilfry, after his final performance, asked the audience to continue supporting the Seal Beach Symphony.
"I sing with a lot of symphonies," he said, "and this is how they all start, just like this. A bunch of people getting together, attending some fun, cool, events to raise some money."
"You're going to be very excited by what this organization can accomplish in the future," said Gilfry, thanking Berlinghieri, whom he said "has the vision and the passion to make this thing really work."
During the event, Berlinghieri suggested the Seal Beach Symphony is growing, yet needs more donors and corporate support to eventually begin to reach its full potential. Even so, he said the quality of music delivered this year "is second to none."
"We need major sponsors now to underwrite the entire season, from start to finish, on an annual basis. It's time, we're ready now," he said.
"I believe I've created a beautiful monster," he added. "From what I've seen and experienced in over thirty years of performing, everything that I'm seeing is truly first class."
"That being said, it's also grown beyond my ability to do everything alone. We simply need more volunteers and more resources to continue putting forth this caliber of artistry," said Berlinghieri.
Berlinghieri said the Seal Beach Symphony will also promote a Mother's Day Recital on May 14, also at Old Ranch, and again sponsor the "Patriots in the Park" event in Eisenhower Park on September 17 to raise funds for the Symphony.
Reactions from sponsors and attendees were equally upbeat.
Corday, a Seal Beach musician who played cello during the concert and also played guitar and sang for the after-party, said the event was a hoot.
"Wow," she said, "what a brilliant evening. It's a rare opportunity to experience top-notch talent right here in Seal Beach. The singers blew the roof off, and the string ensemble was amazing. A truly classy evening," said Corday.
Scott Weir, President of the Seal Beach Lions Club, who sponsored part of the event, said, "The Seal Beach Symphony gathered the most remarkable performers and the Lions were delighted to participate."
"Who knew such an incredibly talented group of people were in Seal Beach? My friends were all so impressed and happy we came," Wendi DeBie of the Original Fish Co. said.
"What a surprise and such a lovely evening," said Gabby Bierman, of Long Beach, who said she and her husband bought tickets at the last minute and were happy they did.
"This was the finest evening that David has ever dragged me out to," said Sherry Barnes, the wife of David Barnes, who is President of the Los Alamitos/Seal Beach Rotary Club.
"What a great event for Seal Beach," said Jim Klisanin, the honorary Mayor of Main Street.
Sister Eymard Flood, who gave the invocation, suggested the evening's music touched the heavens and perhaps even hit a divine note.
"Music enlivens the soul and great music reaches the heavens," she said.  "Love Songs 2023," as an event, she continued, "gave those gathered a taste of the divine."