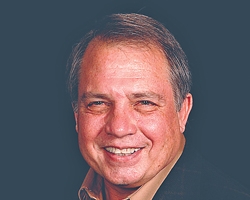 The 2009 Seal Beach Christmas Parade organizers recently announced Pastor Don Shoemaker as the event's grand marshal.
It has been a heady year for the spiritual leader of Grace Community Church of Seal Beach. In addition to celebrating his 25th year at the helm of the seaside congregation, "Pastor Don" has been honored for his outreach in the role of the Seal Beach Police Department's Chaplin.
The Sun Newspapers caught up with the active pastor on Monday evening.
"I just got home from some mountain climbing today (Tahquitz Peak above Idyllwild)," he said. "You wanted some thoughts from me about being grand marshal. So I'll give it a shot:
"I am deeply honored to serve as grand marshal of the upcoming Christmas Parade.  The honor warms my heart, for it is the community's affirmation for the service I have rendered, as a pastor and especially as a community servant.
Shoemaker said he has enjoyed working in Old Town for more than 25 years, serving as Senior Pastor of Grace Community Church since 1984.
"We take the word "Community" in our church name very seriously," he said. "We believe God calls us to be in service and prayer for our community, not only to offer people spiritual guidance when they come to us, but to be a presence for good in the community.
Shoemaker discussed his affiliation with the local police and the personal satisfaction it has brought into his life.
"About 10 years ago, the church board recommended that I find a community service role for myself," he said. "The police chaplaincy grew from this and began in October, 2001.  Since then, I have committed more than 2,000 hours to the chaplaincy."
The Seal Beach City Council recognized him for it earlier this year.
"One of my great joys was to see the community respond to my fundraising effort to purchase 14 AED's (Automated External Defibrillators) for placement in police cars and throughout the community," he said. "For me it has a tinge of sorrow, for I recall that just two years ago this honor was given to Bob Eagle, Seal Beach's Santa and a long-time active member of Grace Community Church," Shoemaker said.
Eagle, a beloved member of the community, died this year of a heart attack. Seal Beach Police Sgt. Steve Bowles has agreed to take on the role of Santa in this year's Seal Beach Christmas Parade. In 2005, Eagle did double duty as both Santa and the parade's grand marshal.
"I know he would be pleased to see me in that role and it is a special honor to follow him as Grand Marshal (not as Santa!)," Shoemaker said.
Pastor Don Shoemaker's history with local church
At a time when 40 percent of church pastors leave the ministry after five years, Donald Shoemaker is an exception as members of Grace Community Church, Seal Beach celebrated his 25th anniversary as their pastor this year.
Church members say Shoemaker isn't an "average" pastor. You're just as likely to find him singing, playing the piano or organ on any given worship service, as you are catching him behind the pulpit.
He and his wife, Mary, began attending the church in 1977.  After serving the church as their organist, worship leader and member of the Board of Elders, in 1984 congregational leaders urged Don to consider becoming their pastor.
"When I first arrived at the Seal Beach Police Department four years ago and met Chaplain Shoemaker, I was deeply impressed by his deep humility coupled with is sincere passion for his God, his church, his flock, and his community," said Jeff Kirkpatrick, Seal Beach Chief of Police.
Kirkpatrick said Shoemaker's service to our Seal Beach police family and the community we serve helps all to deal with those moments, which test our humanity.
"Don is always there to help us through it.  More importantly, he makes himself available to help our community's victims through times of anguish and sorrow, giving of himself to help reinforce their own inner strengths," Kirkpatrick said. "I am indeed proud that Chaplain Shoemaker serves as our Senior Chaplain.  I am even more proud to call him 'friend' and though he serves unarmed, a true "brother-in-arms."
Before becoming a senior pastor in 1984, Shoemaker was on the theology faculty of Biola University in La Mirada, for eight years and the pastor of Los Altos Brethren Church in Long Beach for six years.
He is a graduate of Fuller Theological Seminary with a Master of Theology. He also has a Doctor of Ministry degree from American Baptist Seminary of the West and a Master of Divinity from Grace Theological Seminary.
Shoemaker speaks on issues both theological and cultural not only to his local congregation, but nationally in speaking engagements, newspaper editorials and other published articles.
An inveterate hiker on his "day off," you can catch Don Shoemaker on any number of local mountain trails—either by himself or leading a stalwart group of fellow hikers.0Evelyn Gibson of Grace Community Church of Seal Bach contributed to this article.