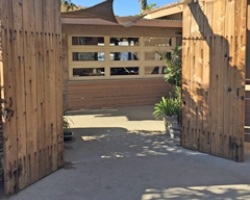 One of the owners of the future Beach House restaurant on First Street told the City Council this week that they expect the construction of the new restaurant to be completed in early 2019. The owners will work on the interior of the former River's End Cafe after the city finishes its work on the city-owned structure. (The Sun will report on the status of the development of the former DWP property next week.)
David Coe, project manager of the Beach House restaurant and one of the three owners of the restaurant, updated the council on the status of the project. The city owns the building on First Street. In March the council approved a lease agreement with Bay City LLC, which includes Coe, real estate agent Rosie Ritchie and former O'Malley's on Main owner Brian Kyle.
The leasse calls for the city to begin receiving $6,700 a month in rent from the owners four months after the city turns it over to the tenant. The city has not yet turned over the property. The city officials recently asked the property manager to begin collecting the rent, according to a Monday, Aug. 13, email from City Manager Jill Ingram to the council.
This week, City Attorney Craig Steele said that because of changes in the plan, the city hasn't collected yet. However, he said under the lease the city would not have been collecting rent at this time anyway under the original timeline. He said the city would start collecting rent four months after the plans were submitted by the restaurant owners—which was Sept. 5.
Coe said the plans for the project had been turned over to the city earlier this month. Interim Development Director Crystal Landavazo. Coe expects to begin work once the city has issued building permits.
Landavazo said the lease agreement required certain improvements to the property and the city was at this time ready to initiate them.
Public Works Director Steve Myrter said staff was delayed on installing a grease interceptor because they had to have information from Bay City LLC to design it. Myter said that would be done within a month. As for the roof, City Attorney Craig Steele said the city is committed to paying for the roof because the city owns the building.
Mayor Mike Varipapa said he was under the impression (in March) that the roof would be replaced in kind.