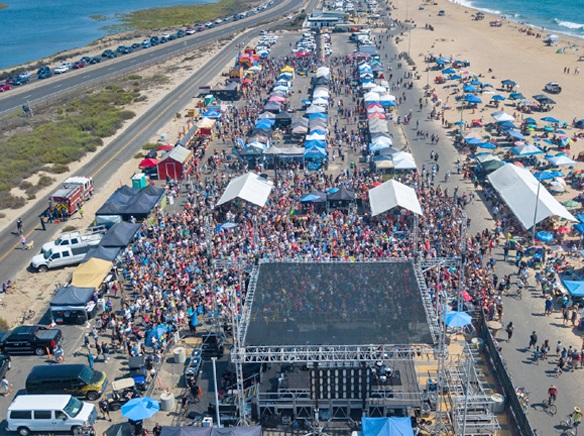 More than 20,000 people attended the Labour of Love Music Fest at Bolsa Chica State Beach on Wednesday, Sept. 1. "This was the largest crowd we ever had," said Senior Pastor Joe Pedick of Calvary Chapel of the Harbour, who helped found the annual event six years ago. "In 2013, the Music Fest was the first Official Beach Concert ever held on a State Beach."
The increasingly popular event brought people of all ages and cultures together to enjoy award-winning musicians, such as Singer/Songwriter Matthew West, who has written hits for country legends Billy Ray Cyrus and Rascal Flatts as well as many Christian artists. Other prominent entertainers included Jordan Feliz, Hollyn, Manafest and Anchored 247.
There was an Air Force flyover, the singing of the National Anthem by Huntington Beach City Councilperson Jill Hardy, free carnival games, rock climbing, bounce houses, bungee jumping and even a prayer booth. More than 475 Bibles were given away within the first couple hours.There were many vendors, including HB's Crunch Fitness, Save African Families, RE/MAX College Park Realty, 3T's Fanware & Wares and the U.S. Marine Corps.
The free Music Fest also was made possible because of 400 volunteers, many from 20 churches in Orange and Los Angeles counties.
Volunteer Dr. Terry Robertson, Ph.D, who helped oversee the 3-day festival setup and teardown, said it truly was a "labor of love." "Everyone worked so well and so hard to make this happen. What a blessing!" The Long Beach State Associate Dean said more than 35 men from the Beacon House in San Pedro, which helps people overcome addictions, did a "super" job assisting in the massive effort. Even Robertson's wife, Shelly volunteered.
The former Nevada gold mine truck driver was in charge of trash pick-up.
Craig Peterson, a graphic designer from Westminster, said volunteering was so much fun "because everyone was so 'up' and positive. We all worked together. It was like putting together a giant jigsaw puzzle of joy!"
"This was the first time we had a huge Video Wall on the stage–the largest stage we ever had," said Event Coordinator Brenda Garcia. "We invite everyone to attend next year on Saturday, Aug. 31st, 2019."
On hand were HB Planning Commissioners Michael Grant and Dan Kalmick as well as Orange County Supervisor Michelle Steel's District Representative Tim Whitacre, who presented the leaders of the Labour of Love an Official County Proclamation for helping bring together such a huge, diverse crowd from different cultures in a safe, family-friendly, positive environment.
"This was my first time there and it was such a joyful, memorable event–you could really feel the love in the air," said HB resident Laura Swanson, who brought her brother-in-law, sister-in-law and a friend. "Count me in. I'm definitely returning next year."
For more information, visit labouroflovemusicfest.com or call 562-592-1800.