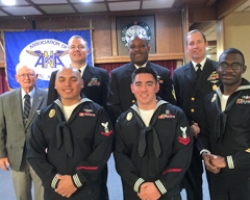 On Thursday, Feb. 8, the Grampaw Pettibone Squadron honored the Sailors of the Quarter stationed at the Naval Weapons Station, Seal Beach.  The recognition was at the Elks Lodge, Garden Grove, during the regular monthly meeting.
The Naval Weapons Station had selected MA1 Frederick Joshua, from Baltimore, MD. as their Senior Sailor of the Year; MA2 Kelly Okazaki, from Lodi, CA, as their Junior Sailor of the Year; and MA3 Carlos Alvarado, from Chicago, IL, as their Bluejacket of the Quarter.
Also at the Naval Weapons Station is the Navy Munitions Command Pacific CONUS West Division.  MNCS(SW) Luis Flores is the Senior Enlisted Advisor for this Unit.  They have selected only one person to be honored this quarter, the Junior Sailor of the Quarter, who is LS2(AW) Amanda Meyer. She was not present because she was recovering from surgery.
The certificates were presented by MACS Pascal Herrling, the Senior Chief responsible for Security at the Naval Weapons Station.  CMDCS(AW/NAC) Kirby Lee, Command Senior Chief for the NWS introduced the sailors.  They were assisted by MNC Richmond Dzansi, who represented the NWS Navy Munitions Command Unit.
Squadron leaders thanked the following restaurants that participated in the honoring the Sailors of the Quarter:  In Seal Beach:  320 Main, Avila's El Ranchito Mexican Restaurant, Beachwood BBQ, Chick fil A, Crema Café, Finbar's Italian Restaurant, Glory Days Beachside Grill, Hennessey's Tavern, O'Malley's on Main, Romano's Macaroni Grill, The Abbey, and Yucatan Grill.  In Long Beach: Beachwood BBQ, Mimi's, and The Crab Pot.  In Huntington Beach:  Don The Beachcomber , and  Fish Camp.  In Tustin: The Crab Cooker.
The squadron also thanked the USAA Insurance Company for their presentation of plaques to the Sailors of the Quarter.  Grampaw Pettibone Squadron is part of the national "Association of Naval Aviation." Tim Brown is GPS president.
Pictured above, from left to right, are:
Front row:  MA3 Carlos Alvarado, Bluejacket of the Quarter; MA2 Kelly Okazaki, Jr Sailor of the Quarter, and MA1 Frederick Joshua, Snr. Sailor of the Quarter. Back row:   Chaplain Bill Thompson, MACS Pascal Herrling, MNC Richmond Dzansi, CMDCS  Kirby Lee. Photo by Tim Brown