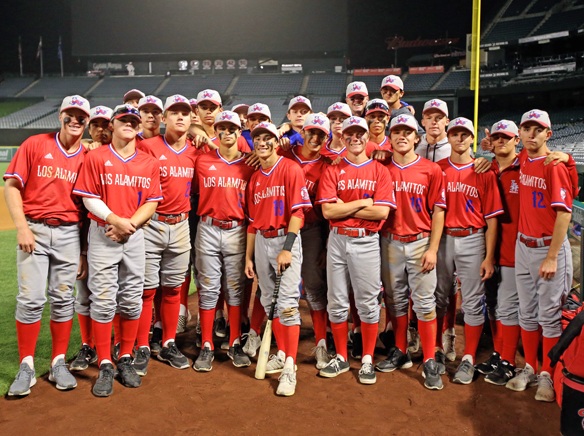 The Los Alamitos High baseball team got a chance to play a game in Angel Stadium and the Griffins took advantage of the big stage, as they rolled past Esperanza, 18-1, in a non-league game last week.
The Griffins used five pitchers, who combined on a one-hitter, allowing just one walk and and striking out seven. Starting pitcher Zach Locke and Dallas Burke each pitched two hitless inning, with two strikeouts each.  Jason Hearn, Dylan Terman and Drew Emmons each pitched an inning to close out the game.
Wyatt Gorman was 3 for 3 on offense, driving in two runs. Justin Armond was 2 for 3 with two RBIs. Will Reeser, Zach Peters and Ethan Overby each drove in two runs as well. Burke, a senior, was also a big contributor on offense, hitting an RBI triple.
Junior first baseman, Jared Anderson, made a highlight-reel, full layout catch of a line drive. The Griffins will close out the regular season with a home game against Huntington Beach on Friday at 3:15 p.m.