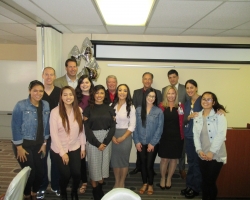 Los Alamitos Medical Center held a special luncheon to honor and recognize the first group of nurse residents who completed the hospital's new program. "The ten members of this first residency class represent the future leaders of nursing at Los Alamitos Medical Center," said Education Director Hannah Issac-Horan. The group spent eight weeks learning with preceptors in what was described as an intense and emotional process.
The hospital's Administrative team, clinical nursing directors, education staff, and nursing preceptors were all on hand to help celebrate. "Nurses want to help—remember that on the hard days that you care for sick and vulnerable patients. It will change you," said Chief Nursing Officer Judy Chabot, RN. "The pressure of being a nurse will have an equal amount of reward."
The candidates had gone to different nursing schools and had various backgrounds before they became nurses. The graduates each received a keepsake nursing ornament as a remembrance of the day, as well as a completion certificate for the residency program.