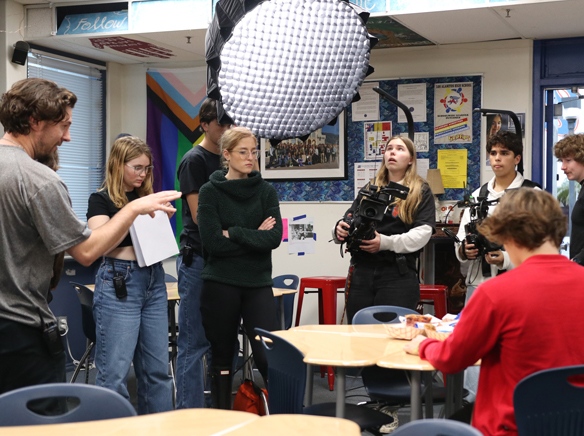 The Los Alamitos High School's film program is hosting the premiere of its 3rd annual student short film this Friday, June 2, at the school Performing Arts Center, according to film and TV instructor Conner Brown.
He said the film screening of this year's film, entitled "Time's Up," will be held at 7 p.m. and admission is free. 
"This year's film students at Los Al have worked for months to create a professional quality short film to showcase their talent and creativity," said Brown.
He said Junior Nathan Spolter wrote the script titled "Time's Up", a goofy comedy that follows two high school students who come into possession of a watch that stops time. Shenanigans ensue as the two begin to run around town with their new power. But when the watch threatens to drive a wedge between them, unforeseen consequences test their friendship. The film is completely created by students.
Spolter wrote the script and plays the starring role of Grant. Opposite him is senior Jack Hardwick who plays Roy, Grant's best friend. The movie also features some of the High School's staff as science teacher Tim Jones, math teacher Janelle Fox, and film teacher Conner Brown also play a role in the movie.
Brown said LAHS Senior Sofia Youngs directed the movie.
Youngs, an aspiring filmmaker and journalist, worked daily with the actors to portray their characters correctly, said Brown in a statement.
"For me, the short film was not only an opportunity for me to grow as a leader but also to learn from my peers," said Youngs.
"Keeping her on schedule every day was junior Johnny Flaim, the film's First Assistant Director," he added.
Flaim is relatively new to the film school at Los Al, he said, but is already becoming a driving force in the direction of the program, said Brown.
"Senior Grace Phelps acted as our Director of Photography on the project and brought a sense of professionalism and immense knowledge of all the equipment we have. Phelps led a talented crew of camera operators and gaffers each day on set to achieve the highest quality footage.
"Working on 'Time's Up' has been so much fun. It's been a great learning experience and there are many memories that I will never forget," said Phelps.
Using the same equipment that Cal State Long Beach offers its students, Phelps and her team created an incredibly impressive project. And the footage wouldn't be anything without a strong team of editors to put it all together," Brown said.
Seniors Alexander Russell and Cole Miller were assigned the roles of Post-Production Coordinator and Final Assembly Editor, respectively. These two led a team of highly motivated and dedicated editors who worked after school every day for weeks to put everything together. After all was said and done, "Time's Up" is ready to premiere on the big screen. We are hoping that everyone from the community shows up to support these talented young filmmakers as they proudly show their project.
After the movie, a "Behind the Scenes" look at how the project was made will be played in the PAC. Junior Emily Fitzgerald captured the whole process on her camera and told the story of the making of this film beautifully, said Brown.
"As a film teacher, I am so proud of all of these students who came together to create an amazing product. The creativity and passion these kids have really is remarkable. Working on this project was something I will remember for the rest of my life and I hope these students look back on this experience and smile as they continue to pursue their respective careers," said Brown.
For tickets or additional info, visit www.lahsfilmschool.com.