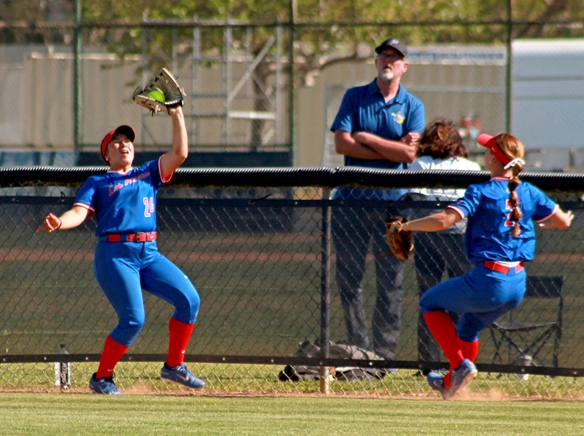 The high school softball season will wrap up this week and playoff-bound teams are looking to secure seedings and/or add league championships to their resume before jumping into the CIF-SS brackets. Despite busy league schedules, Los Alamitos and Pacifica High kept a rescheduled date for their friendly rivalry and it was a good warmup for two teams that could see each other again in the CIF-SS Division 1 playoffs.
Los Alamitos went into last week as the No. 1 ranked team in the CIF-SS Division 1 poll and Pacifica was slotted in the No. 7 spot. The game was essentially a pitching and defensive battle, with Los Al getting a two-run home run from junior outfielder Callie Fitzpatrick in the second inning that was the main difference in the game.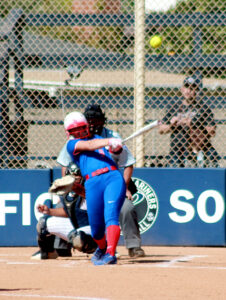 The Griffins were able to push across another run in the third, despite not getting a hit. Fitzpatrick nearly drove in another, but her deep shot to right-center field was run down by Michela Meza, who was able to make the catch on a full sprint to end the inning.
Los Alamitos' No. 1 pitcher, Berkley Vance scattered three hits and had only one walk, while striking out five.
"I liked her control, I liked her getting ahead of batters, she came up with some big pitches in big situations, and our defense played well behind her," Weil said.
Pacifica coach Tony Arduino said that Vance was hitting the outside edges of the plate with her fastball and when she mixed in an off-speed pitch, the Mariners struggled to adjust.
"She kept us off-balance the entire game, we really didn't have too many comfortable swings, in my opinion," Arduino said.
Junior Isabella Rodriguez had drawn a walk prior to Fitzpatrick's home run and sophomore shortstop Kalie Matsuno followed with a single. But Pacifica junior pitcher Brynne Nally was able to get a strikeout and ground out to end the threat. After the third, the pitching and defense took over the game. Pacifica made two outs at home plate to keep the Griffins from adding runs and Nally was able to set them down in order in the fifth and sixth innings.
The Griffins had a setback last week, with a 3-2 loss to Huntington Beach. They rebounded on Monday with a 5-4 win in eight innings over HB (10-2) and meaning the Griffins (9-1) can win the outright Sunset League title with wins over Edison on Tuesday (past press time) and at home against Corona del Mar on Thursday, starting at 3:15 p.m.
In the April 17 CIF-SS Division 1 softball poll, the Griffins were ranked No. 1, with Huntington Beach at No. 7 and Pacifica at No. 8. After last week's Oiler win over the Griffins, Huntington Beach was bumped to No. 1 in this week's poll, with the Griffins dropping to No. 3 and Pacifica slotted at the No. 9 spot. The only other Orange County schools in the top 10 are Orange Lutheran at no. 4 and Esperanza at No. 8.
The playoff brackets are scheduled to be released on Saturday at 10 a.m. Early in the season Norco looked like the team to beat. They opened the season 12-0 before losses to Corona and Huntington Beach chipped away at their armor. The Griffins had lost a couple of game to Norco in tournament play, but Los Al played a tough preseason schedule.
Weil said that with the experience the Griffins have, they have been playing playoff caliber teams all season. Close wins against high-caliber teams has Weil feeling like his team will be ready to battle through a tough Division 1 bracket.
"These kids are so seasoned, … we've got a lot of veteran players on this team, you really don't have to say too much to these kids because they know the magnitude of all the games we play," Weil said.
In Monday's win over then-No. 1 Huntington Beach, the Griffins fell behind 4-3 in the sixth, but scored a run in the seventh to send the game to extra innings. They would then end the game with a walk-off squeeze bunt by senior Taryn Clements.