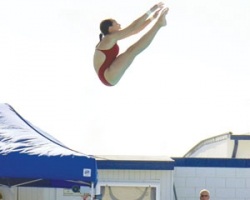 Los Alamitos High School Dive Coach Shane Butler made the call in January for the Dive Team to have its best season ever in 2010.  This came to fruition Saturday at the Dive Team's Annual Awards Banquet.
Los Al Junior, Sydney Czaus lead the Sunset League in 2010 winning Sunset League Female Diver of the Year breaking every school record and most Sunset League records in the process.  Coach Butler has a friendly debate about the one league record Czaus has yet to capture since the league high score was achieved at a Division I meet and not at a League Meet.  Czaus has her eye on the record with one more year on the high school team.
The Los Al Varsity Boys easily won the CIF Sunset League Team title for the second year in a row.  Coach Butler is thrilled to have such a strong boys team including senior, Steven Jones and sophomores Neil Jauhal and Adam Payne.  In his 15 years coaching the Los Al Dive Team, 2009 and 2010 represent the first time boys outnumber girls on the team.  He looks forward to next year when freshmen Justin Chee and Ladell Naylor move up to Varsity.
Technical sports like diving take physical strength, acute body awareness to accurately achieve the difficult spins and twists and the ability to translate verbal direction into physical adjustment.  Because these athletes have such impressive mental and physical ability, Coach Butler says it is not surprising that all three Varsity Boys, Girl's Champion Czaus and junior, Colleen Hertz received LAHS Scholar Athlete Awards for earning GPA of 3.5 or higher while participating in a school sport.
It is this type of joint athletic and scholarly achievement which keeps college scouts interested in Los Alamitos Divers.  Coach Butler is proud of the Los Al Dive Team's record of post secondary education with all three graduating seniors moving on to college whether or not they choose to dive in college.  Steven Jones will attend Loyola Marymount University.  Brittany Sorich will continue diving while attending Saddleback College and Allison Roope will attend and dive for Cypress College in the fall.
Each of the Varsity Divers, Czaus, Jones, Jauhal, Payne and senior Brittany Sorich all earned a special CIF Southern Section Exceptional Achievement Certificate.
The awards continued with Czaus winning Varsity Girls Most Valuable Diver and Payne winning Varsity Boys Most Valuable Diver.  Senior Allison Roope won JV Girls Most Valuable Diver and Justin Chee won JV Boys Most Valuable Diver.
Juniors Lauren Ferguson and Rachel DePina, and sophomore Melissa Serrano, all received Junior Varsity athletic participation certificates.
With such impressive 2010 results, the Los Al Dive Team can expect a great season again next year.  In anticipation, Coach Butler is holding a special summer training camp in conjunction with Chapman University.  Los Al students are encouraged to contact Coach at: divershane68@hotmail.com to join the winning tradition by trying out diving this summer.