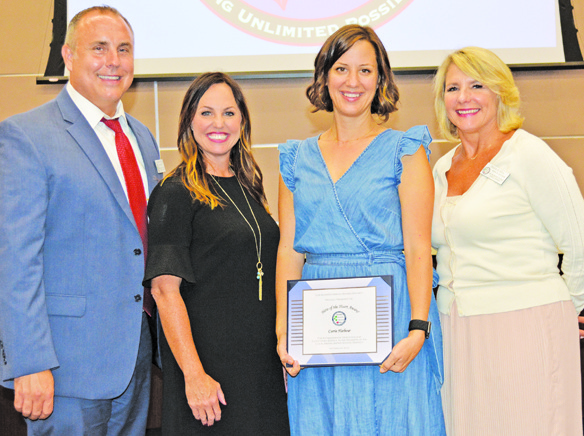 Lee Elementary School has honored Carrie Harbour, a long-time volunteer and school parent, as its 2019-20 Hero of the Heart in a presentation before the Los Alamitos Unified School Board.
"The community of Lee Elementary School is affectionately known as the FamLEE," said Principal Amy Laughlin, "where staff, students, and parents genuinely care for one another and dedicate themselves to helping the children at Lee continue succeeding. Carrie Harbour is the finest example of a FamLEE member."
In her seven years of volunteering at Lee, Harbour has been a room parent and active in the leadership of the Project LEAP fundraising group and the PTA Reflections program. Laughlin said Harbour's greatest impact on Lee has been the implementation of a program in which she teaches art to every single class at least six times a year. "This is 150 art lessons every year," Laughlin said, "that are connected to our school goals and teach students essential art techniques, as well as provide students the background of historical artists like Frida Kahlo and new innovative artists like Yayoi Kusama." Using student work, Harbour also creates an annual schoolwide gallery of art as part of Special Person's Day, Laughlin said.
"Carrie's dedication to Lee is an inspiration." Laughlin told the school board. "She spends countless hours encouraging children's natural curiosity, advocating for students to take risks with their creativity, and inspiring kids to express thoughts and feelings through art. Our community is fortunate to have Carrie bring so much joy to so many lives."
Carrie has deep roots in the community, Laughlin said, growing up in Seal Beach where her family ran the local surf shop, Harbour Surfboards. She is a McGaugh Elementary, McAuliffe Middle School and Los Alamitos High School graduate. She and her husband, Kieran, met at the high school and now have three children in District schools.
"I am truly honored to be receiving this award," Harbour told board members. "I am very lucky to be able to share my love of art with every one of the students at Lee Elementary. I am grateful to be in an environment where the parents, staff and our great principal are so supportive and see the value of teaching the visual arts and exposing the children to a diverse set of cultures from across the globe allowing us to respect and celebrate how beautiful that diversity can be."
School Board President Diana Hill thanked Harbour for her efforts. "You are very important to Lee Elementary School but also to our whole district. We love when Griffins come back and raise their families here. It's something special."