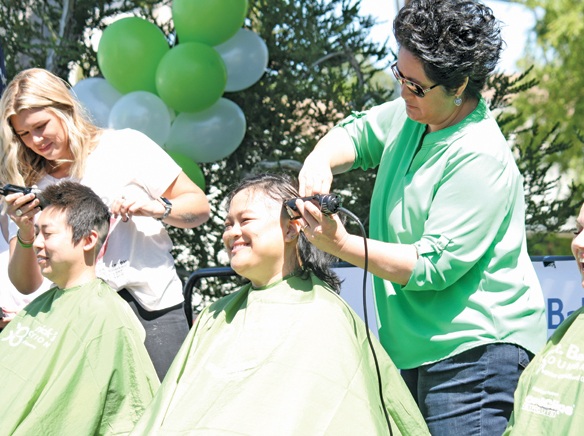 Hennessey's Grill Seal Beach, the Seal Beach Lions, and Millers Children's hospital gathered together with the St. Baldrick's organization to raise awareness and funds for pediatric cancer on Saturday.
Hundreds of people turned out to support the cause and also some of the most amazing families who have directly benefited or shared a deep connection with St. Baldrick's and pediatric cancer. Over the course of the day nearly 100 people "Braved the Shave" to raise funds for this terrible scourge of our youth.
As of press time, the estimated amount raised, after costs, exceeded $70,000 and involved dozens of volunteers. Susan Ariano, general manager of Hennessey's said, "it is the one time a year that our business family [Hennessey's Grill in Seal Beach and other of the brand restaurants] are able to come together with the Lions and the incredible staff of nurses, like Cristen Kean, RN, and stylists from the local community and beautician's school to help us make a difference."
This event has real-world, tangible impacts. Bela Perez, 6, was born with Acute Myeloid Leukemia. She was diagnosed at 3 weeks of age. She endured 4 rounds of chemo and was given the best care for over 7 months at Miller Children's Hospital. She is currently in remission.
Cristen Kean, RN wanted to ensure that the following were recognized for their invaluable assistance to the event: "Loree Turner and Shannon Fox for registering all the participants and taking care of all the money. Lori Boudreau for taking care of the silent auction and Arica Harris for shaving heads every year. Also, to the Career Academy of Beauty for all the hairdressers!" She added, "a huge thanks to Susan Ariano, general manager of Hennessey's and to the Seal Beach Lions who supported us with all of the tables, chairs, special notes and t-shirts from the Lions Club International Pediatric Cancer Initiative."
Finally, she also wanted to acknowledge her family and her hospital and patient families, for without their support she wouldn't have been able to continue to produce the event.
Seth Eaker is Immediate past president of the Seal Beach Lions.