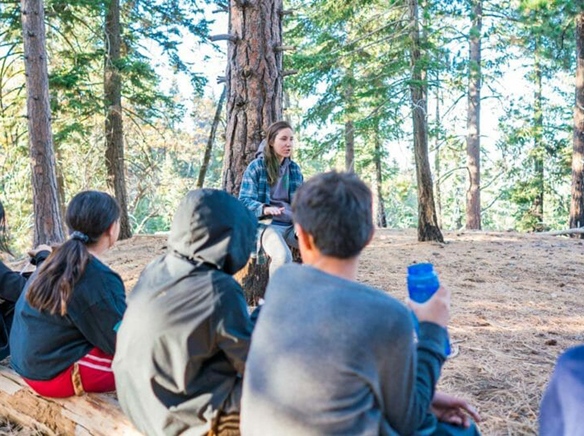 A rite of passage for elementary school students in the Los Alamitos Unified School District has become the subject of parent complaints, debates on social media, and cable news coverage.
Outdoor Science School (OSS) is a four-day trip most students take as fifth graders. At OSS, school staff aided by camp counselors take kids to explore nature, conduct science experiments and stay in cabins. The $375 cost-per-student for this year's OSS was paid for by parents, school fundraisers and the district, including some Covid-19 relief funds. OSS has been a beloved district tradition for decades, according to Deputy Superintendent Ondrea Reed who said the district has used different camps over the years.
This year, around 600 fifth graders from the district's six elementary schools participated during late January and early February. For the first time, the district used the Pali Institute in Running Springs, which was established in 2003, according to its website. The camp is accredited by the Western Association of Schools and Colleges and the Association for Experiential Education, according to the district.
Reed, who visited Pali before the district signed on with them, said part of the reason for choosing the institute was because it assured the district that it would not have to cancel due to any potential staffing issues from a possible Omicron-fueled spike in Covid-19 cases and because it had increased medical staffing and resources.
What sparked complaints?
The first notable complaint became public during the Feb. 8 Board of Education meeting. That's when Suzy Johnson, a district parent, said that her daughter had suffered "emotional abuse" at OSS due to how she was treated by a camp counselor.
"If she did not exit her bed first thing in the morning and at night [the counselor] would pull her down by her feet," Johnson said and added that the counselor told her daughter to shut up when she was crying and missing her mother.
Johnson said the counselor was replaced after a few days because she had croup. (Efforts to interview Suzy Johnson were not successful).
In an interview with Reed on Feb. 14, the deputy superintendent said the district had received four complaints total and all pertained to one cabin's experience. She said that Johnson had been in touch with the district about the specific counselor and Reed said it was being looked into and expressed concern about her daughter's experience.
"We would hope it was a 100% positive experience," Reed said stressing the district wants parents to feel comfortable sending their kids to camp.
In the days after that, it appeared concerns shifted. People said their children shared that some of the camp counselors used "they" and "them" pronouns. While some parents expressed discomfort with this being discussed with 10-and-11-year-olds, others said it sparked constructive conversations at home.
Some parents started to question how non-binary counselors were housed at OSS. That included Weaver parent Rachel Sandoval whose daughter took part in OSS in late January. In a Feb. 17 phone interview, Sandoval said she was not happy counselors were discussing gender pronouns with her daughter, saying it was not appropriate for her age. But Sandoval's top concern was a fear that a biological male could have been allowed to stay in a cabin with girls.
She said after her daughter returned from camp, she reached out to the school and district and was told they would look into it. She also said she contacted Pali and got an email from an administrator there that said counselors were placed in cabins based on the gender they identify with per California law.
Sandoval interpreted that to suggest children could possibly be placed in cabins with counselors of the opposite biological sex.
"There is no knowledge [it happened] but there is also nothing stopping them," Sandoval said on Feb. 17 and added, "If it did not happen this time it's a crapshoot if it's going to happen."
Allegations made in news coverage
As the district looked into the issue, things got more complicated and confusing.
On Feb. 16, Sandoval emailed district leaders and staff upset that nothing had been sent out by the district about OSS to families.
Around Feb. 18, Sandoval and Johnson were interviewed in a KTLA news report and appeared on a cable news show. Both reports suggested that the parents said their kids told them biological males slept in cabins with fifth grade girls.
The KTLA report states: "The parents say their fifth-grade girls told them some of the biologically male counselors at Camp Pali in San Bernardino who use they/them pronouns spent three nights sleeping in cabins with the young girls."
KTLA included a statement from the school district saying it took complaints seriously and was investigating. Its online story was updated on Feb. 19 with a statement from Pali Institute that stated the camp was not aware of any non-binary biological males being housed with girls.
Sometime after that, the parents appeared on Fox&Friends, where the show hosts kept saying biological males stayed with girls during OSS.
During the segment, Sandoval tried to clarify saying, "we have not actually confirmed that there was a biological male in the cabin." But she did say Pali Institute told her it places counselors in cabins based on the gender staff identify with. The hosts continued to say biological males shared cabins with fifth grade girls and the graphic stating that remained on screen during the interview.
In the Fox News online version of the story, Pali Institute founder Andy Wexler denies the above claim. "Wexler also said with certainty that no girls were housed with biological males who identified as they/them, contradicting earlier stories claiming the non-binary counselors were biologically male, based on one parent's account," the Fox News story reported.
(The ENE/SUN reached out to Sandoval and Johnson after these media appearances and did not get a response.)
Pali Institute did not respond to specific questions from Spotlight Schools but on March 1, it emailed a statement from its Relationship Director Bridgette Janes saying the media coverage was "based on unfounded assumptions by what we believe to be a concerned parent and their misunderstanding of the information we did provide."
Janes wrote that most of the news media that ran the story or picked it up did not contact Pali to clarify the information. "That is not only irresponsible but detrimental to our business and employees. It impacts the trust we have developed with our customers and calls in to question our integrity as a business."
"The safety and well-being for our guests and employees are of the utmost importance, always has been and always will be. Please know that we will not place children in cabins with staff members that are not the same sex assigned at birth," the statement said.
School district's response
On. Feb. 22, the district sent an email to fifth grade families explaining what it knew about Pali's camp policies stating they aligned with California's non-discrimination laws but stressed all individuals supervising students were "appropriately vetted through background checks and that there have not been any allegations of sexual misconduct."
The statement went on to say that due to state and federal laws, "the District does not know, nor will we, if an individual was in fact the opposite biological identity than the students they were supervising."
The next day, the district sent out another email to inform fifth grade families that since Feb. 15 it had reached out to Pali "multiple times seeking information and clarity on the assignment of counselors to student cabins." The district said communication had stopped so legal counsel was obtained to help in the effort.
The statement went on to say the district was "surprised" to see a statement released by Wexler on Feb. 22, but not to the district, that said, "that no girls were housed with biological males who identified as they/them" and additionally stated "we can tell you for sure that did not happen."
In a Feb. 23 email message to all district families, Los Al USD Supt. Dr. Andrew Pulver wrote this of the claims biological males were housed with girls: "The District has confirmed with certainty that these allegations are false."
Dr. Pulver told families that the district would not be using Pali Institute next year.
District spokesperson Nichole Pichardo said the district would be looking to return to the C.O.D.E.S camp next year based on feedback from a teacher survey.
LGBTQ community frustrated by news reports on OSS
While policies regarding non-binary camp counselors infuriated some, the news reports on those concerns upset others.
The coverage frustrated members of the LGBTQ community and their allies who said it "ramped up tension at a time when many increasingly feel targeted," as reported by The Orange County Register. During public comment at the Feb. 8 Los Al USD Board of Education workshop, eleven speakers, including two teachers, discussed the challenges and safety concerns felt by LGBTQ students in the district.
District parent Meggan Berthold said her child had no problem with counselors sharing pronouns and suggested more acceptance is needed.
"If any parent sends their child to an accredited, trained, (district security cleared) adult camp counselor, then that parent needs to be OK with gender fluid people. They have existed all throughout time and in every country. It is appalling that we are still in a pandemic and allowing for such limited thinking," she wrote in a message to Spotlight Schools.
For some parents, the biggest issue is wanting to be told about the camp's policy prior to OSS.
"Parent complaints stemmed from not being told [pronouns] would be a conversation topic nor non-binary counselors sleeping arrangements. Two topics that should have been discussed [with] parents prior to OSS," read a post on a Los Alamitos Parent Group Facebook page. "This is not about being anti-transgender or anti-pronouns. It's about parental notification."
The district appears responsive to those concerns.
"As we move forward with Outdoor Science School, we remain committed to reviewing and sharing all camp policies and procedures with families and ensuring that all students have a safe and healthy camp experience," Dr. Pulver stated in a Feb. 23 email message to fifth grade families.
For more local education news, subscribe to the Spotlight Schools weekly email newsletter at SpotlightSchools.com.