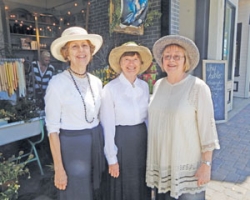 It might sound odd to take a tour of a town you live in, but just how much do you know about Seal Beach, really? Did you know Seal Beach got its money in the early days from gambling, alcohol and prostitution? Did you know the Red Car made U-turns on Ocean Avenue and Main Street? Or how the Glider Inn (now Mahe) got its name?
Kathy Cunningham has been researching Seal Beach history for the past year in preparation for the city's Centennial. This summer, along with friends Marilyn Van Dyke and Margy Arthur, the trio will give historical walking tours of the city.
The idea for the tours came out of wanting to take part in the Centennial. The women joined the History Committee and the rest is, well, history.The hour-long tours will begin in late June a couple Saturdays a month and will be free. They will begin at the pier and continue down Main Street to Pacific Coast Highway.
And just because they are volunteers doesn't mean they aren't experienced. Two of the three have given tours before; one in Lake Tahoe and the other at Johns Hopkins. These ladies are well-prepared. "Our main focus will be the years from 1915 to 1930. That was a crazy and wild time," Cunningham said.
The women laughingly call the tour "History, Mystery, Rumor and Outright Lies." If there is something they haven't been able to historically verify, but they keep hearing about it, the term they will use is "legend says." The tour ladies have their scripts written out and attached to a metal ring. That came from tour experience that proved holding a lot of papers results in dropped papers. They will have a megaphone and a microphone in case they can't be heard. They also have lots of backup material if people have questions or want more detail. Look in the Sun for tour information in June. They are tentatively scheduled for the second and fourth Saturdays and will begin at 11 a.m. at the flagpole at the pier.