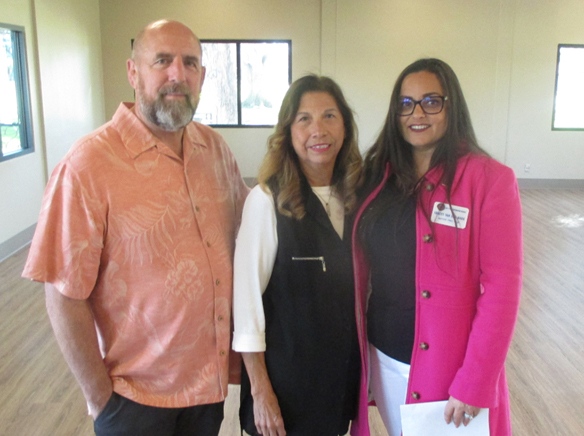 City officials from Huntington Beach and Community Members held a Grand re-opening of Harbour View Clubhouse at 16600 Saybrook Lane on Thursday, Feb. 9. At the event, Huntington Beach Mayor Pro Tem Gracey Van Der Mark, a Harbour resident, was the emcee and announced that her six kids have enjoyed using the Clubhouse for many years.
Huntington Beach City Councilman Pat Burns said, "The Harbour View Clubhouse renovation turned out beautifully. Now the City of HB has another building that can host wonderful events for our community. Great job by our Public Works Department and the Community and Library Services Department."
City of Huntington Beach Facility and Events Manager Chris Cole said the project began work on June 6, 2022, and final approval was issued, Feb. 1, 2023. Regarding scope of work, here are some highlights of the improvements: replacement of the existing concrete patio, surrounding sidewalks, and ADA ramps at the parking lot, removal of old security bars and replacement of all windows, repainting of the building exterior and interior, replacement of all flooring, conversion of the existing restrooms to provide two single-use ADA restrooms, kitchen remodel including new cabinets and appliances, as well as addition of a roll-up service door and addition of badge access for City employees. The project ended up costing $751,571.26
Jim Choate, executive director of Facilities and Transportation from Ocean View School District, said: "I think they did a very nice job updating the existing facility and keeping it a true community center. Oftentimes modernizations tend to go above and beyond the true purpose and function of the building, but I think they kept its purpose and function central in their design. Overall, tastefully done and understated, which is what taxpayers want."
Craig Schauppner, chairman of The Huntington Harbour Commission, said: "I thought the city did a great job renovating the community center and really enjoyed hearing Mayor Pro Tem Van Der Mark's remarks reminiscing about the neighborhood events held there in the past. I hope the new center brings back some of those good old times. We are going to have a Huntington Harbour Neighborhood Watch meeting there on March 15, 2023."
Lolly Mchardy, of the Huntington Harbour Philharmonic, said: "I am very excited about the new Clubhouse. It's beautiful! We do our Concert in the Park every August at the Harbour View Park. It's sponsored by Sean Stanfield at Pacific Sotheby's International Realty." Stanfield grew up near the park.
If people want to rent the Clubhouse for events, they can call: (714) 536-5486 and press 2. You can also e-mail CS.Reservations@surfcity-hb.org.