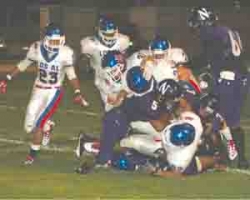 Los Alamitos remained undefeated with a 21-8 win over West Adams Prep on Friday.
The Griffins had three touchdowns by Joe Locher, including two on receptions from quarterback Dylan Lagarde. But the Los Alamitos defense had to hold off two late scoring opportunities by West Adams to preserve the win.
Senior running back Cody Paul had nearly 100 yards rushing to improve his team leading total to 338 yards on the season. He also leads the team in touchdowns with six. Lagarde has nearly 500 yards passing with 10 touchdowns, against just one interception in three games.
The Griffins (3-0) host University of Los Angeles (2-0) on Thursday at Veteran's Stadium at 7 p.m.
The Griffins begin a tough stretch over the next few weeks with Santa Margarita coming on Sept. 29 and the Griffins opening Sunset League play against Edison on Oct. 13.