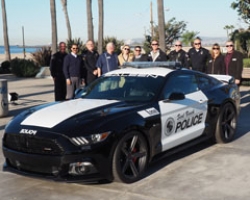 The Seal Beach Police Foundation, a group of involved and concerned citizens, recently purchased and outfitted a custom show car to promote public safety and advance the mission of the Seal Beach Police Department.  The "SALEEN" MUSTANG is a specially outfitted 2017 Ford GT Mustang Coupe, with a 450 horsepower, 302 cubic inch/5.0 Liter V8 Engine, 6-speed automatic transmission, and 20 inch alloy wheels.  It has been specially outfitted with a host of modifications by the world famous Saleen Autosports.
Just in case you were wondering, this is not a regular patrol vehicle used by the patrol officers, but it was purchased by the Seal Beach Police Foundation through their fundraising efforts, for the express purpose of promoting the Seal Beach Police Department.
The Saleen Mustang will be used at events such as; the Red Ribbon Week anti-drug campaign, The Seal Beach Car Show, Run Seal Beach 5k/10k/Kids Fun Run, the Holiday Parade and National Night Out Against Crime.  The Saleen Mustang is only one of many initiatives the Police Foundation has spearheaded.
The Foundation recognizes that the SBPD has little flexibility to seed new programs and encourage innovations. The role of the Foundation is not to displace funding for basic law enforcement, nor reduce the responsibility of the city of Seal Beach to commit the necessary funding for law enforcement services. However, modern law enforcement tasks continue to become more complex, the SBPD has an increased need to stay current in training, employee wellness, technology and equipment, and communication and partnership efforts with the community.
The Foundation uses generous contributions of fellow citizens and funding partners to enhance the SBPD's efforts in three areas:
Community Partnership and Advocacy:  Programs that enhance relationships between the community and the SBPD.
Employee Development: Wellness and Morale, Advanced Training and Employee Recognition Programs.
Police Service Enhancements: Cutting-edge and specialized equipment and technology
By supporting innovative projects in these funding areas, the public-private partnership allows the SBPD to launch innovative and experimental projects that further their ability to serve Seal Beach's public safety needs.