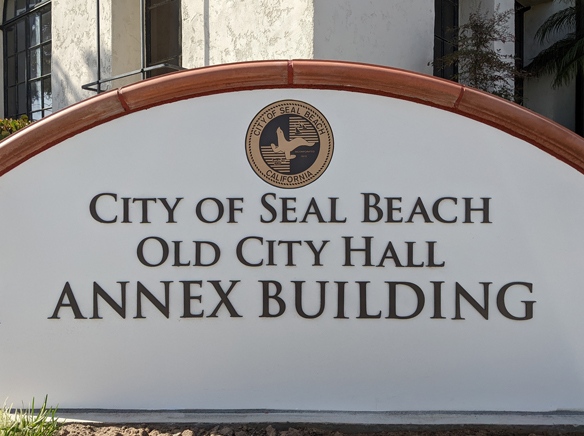 Second of two parts.
Seal Beach Finance Director Barbara Arenado gave the council the five-year budget outlook during the later part of the May 2 budget workshop. (District Two Councilman/Mayor Tom Moore has requested a third budget workshop.) No action was taken at the workshop. (A public hearing on the budget is set for May 22.)
She described the picture as "concerning."
According to Arenado, the five-year forecast projects an average revenue increase of 2.3% and an expenditure increase of 4.7%.
Arenado later described the five-year projection as a snapshot of a moment in time.
According to Arenado, staff had reduced costs by cutting back on educational training, supplies, and contracting with professionals.
However, Arenado said further cutbacks were not sustainable.
Arenado said the projections did not take into account the potential impact of a future recession or the assessment of more than $250 million in unfunded needs.
"Additionally, the forecast is a snapshot in time and changes will occur," Arenado said.
Arenado said property insurance has gone up 12.7% over the past five years.
According to Arenado, most contract services have increased.
She said Fire Services have increased to almost $257,000 a year.
Revenue opportunities considered
Finance Director Arenado reviewed potential opportunities for the city to increase revenues that staff has identified.
These were:
• The hotel bed tax. (This is called the transient occupancy tax.)
• Business license fees. Arenado said the city basically charges a flat fee for business licenses.
She said the city could look at a tiered system.
• Barrel tax.
•  Cannabis revenue.
•  The street lighting levy.
According to Arenado, taxes would have to go before voters.
She said general taxes needed to be approved by a vote of 50% plus one.
She said special taxes would require approval of two-thirds of the voters.
Arenado said the next step would be to conduct a resident poll to gauge support for the various proposals.
Revitalization plan
The council also looked at how the city might spend $3.1 million in American Rescue Plan Act funds. (Spoiler alert: the council will discuss this at the May 22 City Council meeting.)
As previously reported, staff proposed four options:
• Use the money for one-time costs. These would include Lifeguard communications and other projects.
• Use the money for the community pool project. (According to Arenado, after combining the ARPA money with the funds reserved for the pool project, the city would need $11.5 million more to fund the project.)
• Use the money for Lifeguard Headquarters. (The city would need another $7.9 million.)
• Set aside the money to consider at another time.
District Three Councilwoman Lisa Landau asked if money from the sale of the Ironwood property would go to the West End Pump Station.
Public Works Director Iris Lee said the $700,000 from the ARPA funds for the pump station would serve the station's needs without the subsidy from the sale of the Ironwood property.
District Four Councilwoman Schelly Sustarsic asked about the staffing and efficiency assessment.
Assistant City Manager Patrick Gallegos said this would be in the vein of succession planning.
He described it as a roadmap for staffing.
Gallegos said that in his time the city has not had a master plan for staffing.
Gallegos confirmed that the city would hire a consultant for the assessment.
District Two Councilman/Mayor Tom Moore cited the West End Pump Station as a priority.
He asked the council if there was consensus for the first option (to spend the bulk of the $3.1 million on a variety of one-time costs).
District Five Councilman Nathan Steele said that in this economy, he felt as if they were being punished for not spending money.
"With inflation going up every year, our buying power decreases by that much," he said.
Steele said he didn't fully understand the list of things he was seeing in the first option. He said he needed more information.
Arenado said each item would be brought back to council for final adoption.
Steele apparently wanted assurance he was not voting on each of the items that night.
Kalmick explained that they were talking about the concept of using money for those items and those items would come back to the council.
In a May 15 email, Moore told the Sun that "The City Council will be discussing this at the public hearing on Monday [May 22] to include the $3.1M of ARPA funds 'option 1' items as part of the budget which were discussed at the last meeting." He was apparently referring to the May 2 budget workshop." The list of "Option 1" items, which would be a list of one-time items to pay off with the Federal money, will be presented next week, according to Moore.
"Since the ARPA money was intended originally to benefit people most affected by COVID,  I suggested we look at spending the $850K remaining out of the $3.1M on park improvements in Seal Beach," Moore said.
"However, it was decided to leave the $850K separate from this for now to be decided upon at a later time," Moore said.
In other discussions
Council members discussed getting grant funds.
In response to a question from District Five Councilman Nathan Steele, Public Works Director Lee said the grant writers would be outside consultants.
The council members also discussed park improvements.
District Four Councilwoman Schelly Sustarsic was concerned that dividing money among four parks would not do much.
Lee said, based on council comments, that Finance would work with the recreation staff to come up with a plan to address needs at the parks but be equitable to the various city districts.
District Three Councilwoman Lisa Landau asked if the city put in better lights, would people play pickleball at Marina Park until 10 p.m. Public Works Director Lee didn't know about current park hours.
According to Landau, there had been complaints.
Landau described pickleball as loud. Landau said the city may need to weigh the balance between the quality of life for residents around Marina Park versus extending pickleball hours.
Later during the May 2 meeting, Steele asked if there would be a chance to talk more about the five-year projection.
Arenado described the projection as a snapshot of a moment in time.
Arenado said that as the city continues to cut back and cut back, the city doesn't have any more place to cut.
Later, Arenado said various costs put pressure on the city's discretionary spending.
According to Police Chief Henderson, each department was looking for efficiencies "to squeeze more blood from the turnip."
Henderson said that as salaries and benefits go up, the hours of overtime available to the department decreases.
"We still have to find ways to deliver services within those constraints," Henderson said.
Mayor Moore asked if staff could review the five-year analysis at the mid-year budget review.
Arenado said yes. Arenado said that the city was becoming so lean that service impacts will happen if the city doesn't take action.
Moore asked Kalmick to speak.
Kalmick said it was clear to him that "we are victims of our own desires."
"Our community has fought for years to remain a small community," Kalmick said.
"We've turned away big box stores. We've turned away other entities that would bring a lot of revenue," Kalmick said.
"We don't have hotels to speak of, we don't have much in the way of visitor serving other than our Main Street and those areas that serve communities north of the freeway like the Target Center and Rossmoor Center," Kalmick said.
"But now a lot of those desires are coming home to roost," Kalmick said.
According to Kalmick, there wasn't a department head in the room who council could ask to cut back on their personnel.
Kalmick said the evidence was there that the city needs every employee that the city has.
Kalmick said who knew where Seal Beach would be if the city had approved the Costco or Home Depot that were proposed years ago or if the city had not downzoned as much as it did.
"But here we are and nobody's to blame, but I think we have no choice but to ask ourselves, 'how much are we willing to pay to live in Seal Beach?'"
Kalmick cited the utility users tax, which he said had been attacked so much over the years that he believed the city had lowered it 1 percent. "I always called it the fee for living in Seal Beach," Kalmick said.
Kalmick said he had thought and thought about it, but he had not come up with an idea that isn't going to cost residents more money to live here.
Steele was next.
"We had to make up a $2 million hole this year and we did it beautifully," Steele said.
"But you can't do those kind of cost savings every single year," Steele said.
Moore agreed with Kalmick and Steele that it is a tough situation. According to Moore, the city would get through it.
Email your opinions about the city budget to editor@sunnews.org.