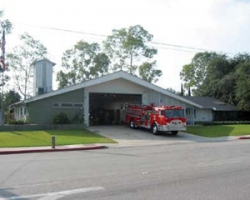 The city of Long Beach started rolling "brownouts" of eight fire stations earlier this month.
Fortunately, the brownouts won't include Fire Station 22, which is supposed to provide emergency services to Seal Beach's College Park West neighborhood.
The cities of Long Beach and Seal Beach had agreed to have Fire Station 22 serve College Park West because the Orange County Transportation Authority's West County Connector's Project will cut off the Seal Beach neighborhood from the nearest Seal Beach fire station.
According to the Oct. 1 issue of the Press-Telegram, the Long Beach Fire Department will take one fire engine away from each of the eight stations on a daily basis for the foreseeable future.
However, Long Beach fire officials were unwilling to identify seven of the eight fire stations scheduled for the "brownouts."
The Press-Telegram quoted Long Beach Deputy Fire Chief Jeff Reeb as saying the information could not be made public for reasons of "Homeland Security."
Yet Orange County Fire Authority Division Chief Ed Fleming said Long Beach Fire Station 22 is not scheduled for a brownout. Fleming's division covers Seal Beach and six other communities.
Fleming also said the Fire Authority was crafting an agreement with Long Beach to ensure that College Park Wast is protected.
Of course, if Fire Station 22 is answering a call when something happens in College Park Wast, another station will handle the call.
Fleming explained that "for every dot on the map," there is a list of the 20 nearest fire stations. Dispatchers assign stations to cover fires based on a computer aided dispatch system.
As for the West County Connectors Project, Fleming said transportation officials had told the Fire Authority that the project will probably begin at the end of 2010.
"The West County Connectors Project was initiated by the Orange County Transportation Authority and the California Department of Transportation.
It was intended to link high occupancy vehicle lanes/carpool lanes on the San Diego Freeway with those on the Garden Grove Freeway and San Gabriel River Freeway to create a seamless HOV connection amongst the three freeways," according to the OCTA Web site.
"The project traverses the cities of Garden Grove, Westminster, Seal Beach, Los Alamitos, Long Beach and the community of Rossmoor," the Web site said.