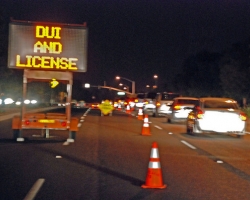 A Seal Beach DUI checkpoint screened 300 cars and caught one suspect wanted on a felony warrant on Friday, Jan. 1.
However, the Seal Beach Police Department did not find a single drunk driver passing through the checkpoint at Pacific Coast Highway and 1st Street.
The checkpoint was held from 8 p.m., Jan. 1, to 1:30 a.m., Saturday, Jan. 2, according to Sgt. Steve Bowles, the public information officer for the SBPD.
The Seal Beach checkpoint was one of 300 operating throughout California as part of a statewide crackdown on drunk drivers. Funding for the campaign came from the California Office of Traffic Safety through the National Highway Traffic Safety Administration. Bowles said 950 cars came through the checkpoint, of which 300 were screened. Seal Beach officers issued seven citations and made three misdemeanor arrests in addition to arresting one person who was wanted on a felony warrant.
The police also towed six cars because they were not registered or because the drivers were operating the vehicles on suspended licenses or with no licenses at all.
Late last year, the SBPD received a grant to operate 10 "mini-checkpoints" during the year. The next Seal Beach DUI checkpoint will be held on Saturday, Feb. 13.
Crime Log Assembled by Charles M. Kelly
The crimes listed in the Sun Newspapers were reported to Seal Beach Police Department, Los Alamitos Police Department and Orange County Sheriff Department between Dec. 28, 2009 and  Jan. 7, 2010. Only street names are used; times given are reported times, not incident times. Crime Log entries are based on preliminary information. Space limitations make it impossible to publish every incident. Until proven guilty in a court of law, all suspects are considered innocent.
IN SEAL BEACH
Monday, December 28, 2009
Welfare Check—1:48 a.m.—Guava Avenue—Someone called 911, then hung up. The 911 dispatcher called back. A juvenile answered the phone and explained that the family had a medical emergency involving another child suffering from an asthma attack. However, her parents had already left to take the child to the hospital. Police unit 121 was dispatched to check on the welfare of an 11-year-old and a 17-year-old. The juveniles checked out OK. No further police service was necessary.
Business Burglary—5:33 p.m.—Seal Beach Boulevard—Kohl's security personnel reported at least five males stealing property. Security detained the suspects. All the suspects were arrested for business burglary.
Under California law, if you enter a store with the intention of stealing then you may be charged with burglary. Otherwise, the suspects might have been charged with petty theft. Some of the suspects were juveniles. They were released to their parents.
Tuesday, December 29, 2009
Fraud—10:36 a.m.—Seal Beach Boulevard—A Hispanic man in his early to mid-30s tried to use what a Wells Fargo Bank teller thought was fake identification to cash a $50 check. Police unit 111 found that the man also had an international drivers license from the Philippines. The identification, however, belonged to a female senior citizen rather than a 30-something man. The suspect was arrested.
Animal Cruelty—2:55 p.m.—A Row, Surfside Colony—The caller's cat was tortured by an unknown suspect.
Wednesday, December 30, 2009
Identity Theft Report—4:01 p.m.—1st Street—An unknown suspect used the caller's personal information at a hospital. Loss: $1,600 so far. The caller promised to come to police headquarters to file a report.
Traffic Hazard—9:11 p.m.—Pacific Coast Highway and Seal Beach Boulevard—A large pelican was in the roadway on the west side of Pacific Coast Highway, east of Seal Beach Boulevard. The bird was blocking the roadway and several motorists went into the street to try to move the animal. Long Beach Animal Care Services responded.
Thursday, December 31, 2009
Trash Digging—11:07 a.m.—Central Avenue and 7th Street—While on duty, police unit 113 observed a man digging through trash. He had been warned about trash digging just minutes earlier. He was arrested for violating the Seal Beach Municipal Code.
Friday, January 1, 2010
Drunk—10:57 p.m.—Main Street—Police received a report of a drunk man on Main Street. He was assisted by a friend and left in a taxi.
Saturday, January 2, 2010
Disturbance, Juveniles—7:13 p.m.—Bolsa Avenue—Three juveniles, boys, were reported on the roof of the auditorium. Police unit 127 contacted one of the boys. The others tried to run away, but were in the area. All three suspects were interviewed in the field and released to dad.
IN LOS ALAMITOS
Monday, January 4, 2010
Suspicious Occupied Vehicle—9:56 a.m.—Katella and Lexington—The caller said an individual in a vehicle appeared to be taking pictures of the area.
Tuesday, January 5, 2010
Suspicious Occupied Vehicle—3:42 p.m.—Noel Street—The caller said someone in a blue vehicle approached the residence asking if anyone spoke Farsi and then left the area.
Wednesday, January 6, 2010
Disturbance Juveniles—11:25 a.m.—Howard Avenue—The caller said two people who appeared to be of school age were loitering on the property. Officers found the pair and discovered they had graduated.
Friday, January 8, 2010
Suspicious Subject—4:01 p.m.—Vista De Ora—A man knocked on the caller's door and said he had lost his dog.
He became agitated when caller said he hadn't seen the dog.
The caller thought the man might have been casing the area.
Saturday, January 9, 2010
Disturbance Music—10:35 p.m.—Snark Street—The caller complained about loud music coming from a residence.
People at the residence said they would turn the music down.
Sunday, January 10, 2010
Shots Heard—11:16 p.m.—Green Avenue.—A number of civilians and officers in police units heard two shots and saw smoke in the area near Bloomfield.
Units searched the area but were unable to locate the source of the suspicious sounds or the smoke.
IN ROSSMOOR
Monday, January 4, 2010
Burglary Report—9:55 a.m.—Bradbury Road—This was a report of grand theft from an unlocked vehicle parked in an open carport.
Miscellaneous items were taken.
Tuesday, January 5, 2010
Unknown Trouble—4:38 p.m.—Hedwig Road and Foster Road—The caller reported 12 juveniles in the park, smoking marijuana.  An Orange County Sheriff's Department deputy detained 11 young adults and juveniles.  No marijuana was found.
Wednesday, January 6, 2010
Burglary Report—9:42 a.m.—Brimhall Drive—This turned out to be a vehicle burglary.
Grand Theft Report—5:38 p.m.—Orangewood Avenue—Property was taken from an unlocked garage. No one was seen. At 3 a.m. on Thursday morning, Jan. 7, Los Angeles Sheriff's Department advised the Orange County Sheriff's Department that the property and suspects had been located.   LASD deputies had stopped a vehicle in Bellflower and found property that was linked to the Rossmoor garage theft.
The two adults suspects were arrested and booked in Los Angeles for possession of stolen property.  This is an on-going investigation.
Thursday, January 7, 2010
Suspicious Person or Circumstances—2:15 p.m.—Foster Road—A man not known to the area was seen walking around.
IN SUNSET BEACH
Tuesday, January 5, 2010
Bike Stop—12:19 a.m.—S. Pacific Avenue and 24th Street—An individual was warned about violating the California Vehicle Code, which also applies to bicycle riders.
Brian Smith of the News-Enterprise contributed to this article.