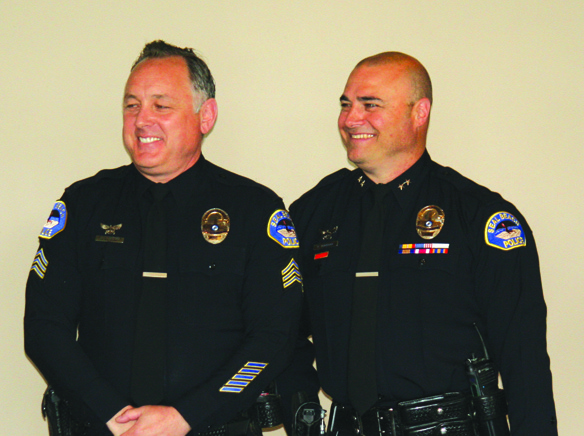 Commander Phil Gonshak, a member of the Seal Beach Police Department since 2007, will become the departments new chief of police, effective Dec. 1, the city announced on Monday. Seal Beach City Manager Jill Ingram appointed Commander Phil Gonshak, a 20-year law enforcement professional, to serve as chief of the Seal Beach Police Department.
Gonshak, a member of the SBPD since 2007, will succeed Interim Chief Joe Miller who retires at the end of November.
A native of Phoenix, Arizona, Gonshak started his career with the Tempe, Arizona, Police Department in 2000.
Since joining the SBPD, he has served in the capacities of police officer, corporal, sergeant and commander where Gonshak has had a variety of assignments in patrol, field training, special investigations, narcotics, and SWAT operator and sniper.
He is currently serving as West County SWAT Commander for a regional team that serves the cities of Seal Beach, Cypress, Los Alamitos, Westminster, and Fountain Valley.
"Chief of Police Joe Miller has expertly led the Seal Beach Police Department ensuring the community remains one of the safest in Orange County," said City Manager Ingram. "Commander Phil Gonshak's breadth of experience, leadership skills and management abilities combined with his keen knowledge of the community make him well-suited to become the city's next Chief of Police with the ultimate goal of serving and protecting everyone who lives, works or visits Seal Beach," she said.
Commander Gonshak has a bachelor's degree in Business Administration, a POST Management Certificate, as well as a master's degree in Public Administration, all from California State University, Long Beach.
Furthermore, Gonshak is a graduate of the Sherman Block Supervisory Leadership Institute's Class #384, the Los Angeles Police Department's West Point Leadership Program, and the FBI National Academy Class #260.
Seal Beach Councilman Joe Kalmick was pleased with the selection of Gonshak.
He noted that as a resident he has known Gonshak for several years and has watched him rise through the ranks in the department.
"He is smart, and as a long-time resident, understands our City and its residents," Kalmick said. "I know that he is respected by his fellow officers and staff and will make a great chief."
District Three Councilman Michael Varipapa said, "Commander Gonshak has worked in our city for many years and has always done an outstanding job. I know he will continue to represent our city with honor and distinction."
Gonshak and his family live in Seal Beach.
During his spare time, he enjoys spending time with his wife, three daughters and two-year-old grandson as well as teaching public administration courses as an adjunct professor at CSULB.
"Being appointed to serve as Seal Beach's next Chief of Police is certainly the highlight of my career," Commander Gonshak said.
"I'm extremely grateful for the trust and confidence I've been given by City Manager Jill Ingram, the City Council, and my colleagues at the police department. I am looking forward to continuing to serve and protect our community in this new role," he said.
The city will bid farewell to Chief Miller during the regular City Council meeting of Dec. 9. Miller is retiring after more than 31 years of leadership and service with the Seal Beach Police Department.
During his nearly three-year tenure as chief, he gained the confidence, respect and support of the City Council, City Manager, City staff, police department, and community.
Under his leadership, SBPD operations benefited from improvements that included enhanced community-based policing such as the creation of the COP Team, the Leisure World investigator, and the establishment of five new police officer positions as a result of the community's support of Measure BB, also known as "Seal Beach Neighborhood Safety and Essential Services Protection," a 1-cent sales tax increase.
"For the last 31 years the Seal Beach Police Department has been my home away from home, and its employees my extended family. I will forever be grateful and proud to have been Chief of such an amazing Department and community. I am confident that the Seal Beach Police Department is being left in capable hands under Commander Gonshak's leadership."
A separate announcement will be forthcoming regarding the new Chief of Police Badge Pinning/Swearing-In Ceremony later this year.