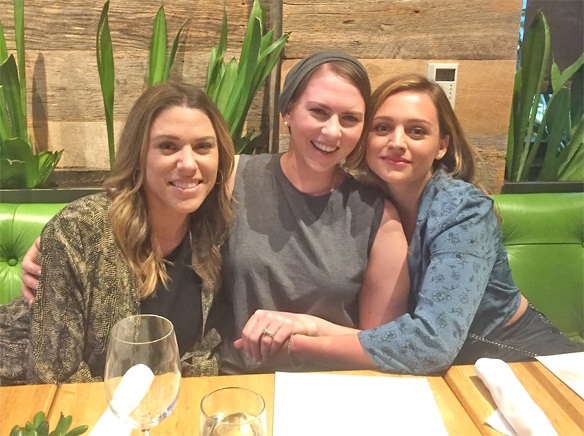 Although a brain tumor has finally taken her life, the legacy of strength, grace and courage demonstrated by Morgan Johnson Gruenebaum during her short life could serve as an example, and potentially a cure, for generations to come.
The 33-year-old Seal Beach native died Sept. 25 following a 22-month battle with glioblastoma multiforme (GBM), a deadly brain cancer for which there is no known cure.
To fully appreciate the remarkable poise and dignity with which Morgan accepted her fate, it is helpful to also understand the unsuspecting beauty and fullness of her life before the devastating diagnosis and disease that claimed her life.
Destiny seemingly always held a special place for Morgan since she was born in Old Town Seal Beach on October 14, 1985 to Wendy and Gary Johnson (Johnson is a former public works director and city engineer for the city of Seal Beach).
The oldest of three girls, she attended SunNFun, McGaugh Elementary, Oak Middle and graduated from Los Alamitos High School in 2003.
As a youngster, Morgan was always active, participating in Girl Scouts with her mother as Den Mother and her sisters always seemingly in tow.
Morgan was a southern California beach girl who, even as a teen, wanted to make a difference. As a junior lifeguard during summers, she patrolled the beaches for anyone in danger. Eventually, she used her mastery of the water to become a standout on the Griffin girls swimming and water polo team.
She was talented as well. Morgan sang in the world-famous Los Alamitos Show Choir and it became obvious that this girl was determined to make something of her life.
Four years after she graduated from Los Al, she earned a bachelor's degree in business administration from Loyola Marymount University. Morgan, a member of Alpha Phi Sorority, made history at the age of 29 by becoming the youngest member to graduate with an Executive Master's in Business Administration (EMBA) from Loyola Marymount.
Moreover, the faculty at Loyola Marymount was so impressed with Morgan they made her a mentor for incoming students, a role for which she volunteered for many years.
By then, however, her career in the aerospace industry was well established and her personal life was filled with love as she married Benjamin Gruenebaum in August of 2010. They enjoyed then what seemed like a fairytale wedding in Malibu.
By age 30, she was living an exemplary life. She was a major executive with Raytheon Aerospace and enjoying life with husband Ben and their goldendoodle, Bailey at their El Segundo home.
Against this optimistic backdrop, Morgan was one day driving to her Raytheon office in El Segundo when she seemed to notice problems with her vision. She immediately contacted her eye doctor and scheduled a visit.
When her optometrist determined there was no visible eye problems, it was recommended that she have an MRI (magnetic resonance image) performed at a local hospital. She agreed and, at age 31, in a matter of days, her life was turned upside down.
Doctors noticed a mass inside Morgan's brain and upon immediate surgery, found a tumor the size of a lemon in her brain. Thankfully, says the family, their Seal Beach neighbor, Dr. Kevan Craig, stepped in immediately to provide the family with professional assistance.
"It was very sad," said Dr. Craig, who told the Sun he did everything he could to help.
On the family's behalf, Craig contacted the Head of Neurosurgery at UCLA Linda M. Liau, MD, PhD, MBA, Chair, Department of Neurosurgery, Co-Director UCLA Brain Tumor Center to schedule Morgan's immediate surgery to remove her initial tumor in December of 2017.
While the family held out hope the tumor would be benign, they tragically learned after the surgery that it was, in fact malignant. Her initial treatments went very well, however, and Morgan soon went back to work.
As a Raytheon Aerospace business development manager, Morgan threw herself back into her work. Though she could no longer drive, she took rideshare to work almost every day, and her family jumped in to drive anytime she needed it.
Raytheon promoted her, gave her a bigger office and life was good again. Since Morgan had been in remission for nearly a year, doctors were surprised and thought this was a very good sign.
Without any warning, however, Morgan soon began to lose more of her vision. At first, she kept it to herself but then confided with her family. Her cancer had come back.
This time, the tumor was woven "like a spider's web" throughout Morgan's brain. So tragic, in fact, that her own doctors reportedly cried more than she did when they learned the sad and final truth about Morgan's cancer and her ultimate fate.
Her most recent diagnosis was in February of this year, and Morgan would never return to her new corner office as she agreed to experimental surgery and treatments to save her life.
Sadly, after she died, Raytheon invited Morgan's family to see her new office and according to Haley Johnson, "we were shocked." Only then did the family learn that Raytheon Aerospace had not touched it since Morgan's February re-diagnosis. It was left exactly as it was seven months ago when Morgan left it for her doctor's visit.
"The white board was still scribbled with her notes, her papers still on her desk, her project files intact," said Johnson, her younger sister. She said Morgan's family photos were clearly lined up on the desk and they served as a stark reminder of the fragility of life.
Raytheon executive Karina Arroyo said of Morgan, "I have worked with Morgan for the past 13 years. In this time, I have had the honor of witnessing her blossom from a young college grad, into a phenomenal woman. She was graceful, powerful in thought, and infectious with her creativity. Her divine light will forever live in our hearts. "
Hard to imagine that just seven months ago, she was on a rocket ride at Raytheon. Now, the company is preparing to host a celebration of her life.
Throughout her ordeal, Morgan endured three brain surgeries, two rounds of radiation, chemotherapy and numerous types of experimental treatments in a proud, yet futile battle in to save her own life.
Though deeply saddened by her death, almost immediately Morgan's family and friends began to find comfort in the aura of joy and goodness created by the way she lived her life…and gracefully accepted her fate.
"Morgan's laugh was a contagion of genuine joy that embodied the quintessential positivity that she brought this world. May the echoes of her laughter be heard in our hearts to remind us of her kindness, love and the memories we had with her," said her husband Ben.
"Morgan and I had been best friends since childhood. She was that selfless friend who would drop everything to be by your side. She was fiercely loyal, thoughtful, and kindhearted," said Hilary Goulding, her best friend since kindergarten.
"But what I will always remember and cherish most is the fun we had as we grew up together, from children to teenagers to young adults. She was full of life and had a smile that lit up the room. I remember sitting in our freshman dorm room together, talking about absolutely nothing and laughing so hard we had tears streaming down our faces. She was that friend. The friend everyone wishes they had."
Another childhood friend, Andrea Furr, said Morgan "was the epitome of strength and grace. She had a heart of gold and the purest soul. I was lucky to call her my friend and will carry her in my heart forever."
Even during the darkest days toward the end, Morgan demonstrated enviable joy and courage. Accepting her own fate, Morgan began working on a new project that would outlive her.
"Even though Morgan initially understood that her chances to survive this brain tumor were very limited, she handled every day with grace, kindness and positivity until the very end. She was more concerned about how everyone else would handle this traumatic loss," said her sister Haley.
"She never lost her beautiful smile, her grace, her poise and determination to make a difference. In fact, while she was giving blood for her treatment, she laid her other arm out to give blood to research to find a cure for other children."
In fact, Morgan left a statement to summarize her own "forever" project in her own words.
"My tumor has successfully taken in a few mice and they think it's the first research facility with my tumor type! It's apparently relatively rare, only 5% of brain tumor cases are typically found in pediatrics (late teens) vs adults. They'll be using them to study the specific mutation and test it against treatments. Glad to hear I'll be helping not only myself but future people with my tumor type!"
Her family is determined to follow through with Morgan's last wishes to ensure they are fulfilled.
"Morgan's wish was that her suffering was not in vain so that each trial would help not only herself, but the next person diagnosed with this rare cancer. We are immensely grateful for any contribution to Morgan's incredible legacy and hope this will be a source of hope and a cure for this and future generations," the Johnson family said in a statement.
To honor Morgan's legacy, the Johnson family has established the Morgan Gruenebaum Fund for Glioblastoma Research with a goal to raise at least $100,000 by October 1, 2020 and continue to add to the fund thereafter in her name.
Morgan's legacy will significantly advance progress in the diagnosis, prognosis, and treatment of brain cancer, specifically glioblastoma multiforme (GBM), with a preference to support research focused on pediatric and rare GBMs. Funds will be used to support research, clinical trials, and patient care.
Already, another young man diagnosed with the same rare condition is already receiving the benefit of the trials and research Morgan allowed to be performed on her before the tumor did its heartbreaking work.
Morgan is survived by her husband Ben, her parents, Gary and Wendy and her two younger sisters, Haley and Taylor.
Even faced with the prospect of losing her own life, Morgan Gruenebaum found a way to make a difference, not for herself, but for generations unborn touched by this devastating disease.
Editor's note: Donations can be made to The Morgan Gruenebaum Fund for Glioblastoma Research through the UCLA Foundation. https://giving.ucla.edu/neurosurgery/morganG
If readers want to make a donation by check. Please make the check payable to The UCLA Foundation and in the "Memo" line write The Morgan Gruenebaum Fund.
Checks can be sent to: UCLA Neurosurgery Development
Wasserman Building
300 Stein Plaza, Suite 562
Los Angeles, CA 90095-6901
A Celebration of Life will be held on Sunday, October 6th, 2019 at the Raytheon Employee Park on 2000 El Segundo Blvd., El Segundo, CA from 10:30am to 12:00pm. The public is invited to attend.
Raytheon has also announced they will match any employee contributions to the Morgan Gruenebaum Fund.