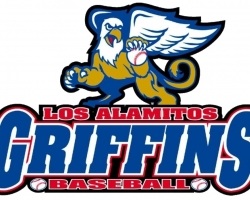 It was a pitching match – and Los Alamitos High School's Varsity Baseball team could not keep up with the Huntington Beach Edison Chargers.
The game ended with a tight score of 2-0 with Edison shutting out the Los Al Griffins.
The game got off to about a 15-minute late start for Friday's 3 p.m. schedule.  The problem was that umpires rummaged through Edison's and Los Alamitos bats, batting helmets, and gear.
There was talk that someone has complained that Edison's might be shaving their Aluminum baseball bats. We used to call it grooving the bat, using a flathead screwdriver and a rag to give the surface of the bat a flatter surface for hitting improvement.
With an Aluminum bat, it seems that sandpaper would be used to give the surface a rough gripping area to hit the ball better.
The umpires found nothing to be illegal. Except the perception that the Los Alamitos crowd was ready now to question any Huntington Beach Edison hits that sounded too solid.
The Los Alamitos fans represented the school very well and is quite a baseball rule reference crowd having Dennis Ivison in the stands as for any rule's interpretation or explanation.
The first league game of the year was a pitching duel between HB Edison's number one left handed pitcher Henry Owen.
Owen struck out the side for the first three innings and ended the game with 12 strikeouts. Los Alamitos went with Pitcher Kyle Ferramola who struggled thru the game with not getting his low outside breaking balls called for a strike.
The umpire would not give-in. Edison's hitting was scattered, scoring two runs, one on a sacrifice fly, and one well-hit home run to left field. With 12 strikeouts, Los Alamitos hitting produced no rally and was shutout. Catcher Brad Hartong continued his excellent hitting, going two for four.
Brad also had two impressive stolen bases. Freshman Shortstop Frankie Padulo continued to progress in his role on the team. Center fielder Nicholas DiMatteo shagged some deep hits through the game and kept Los Alamitos in the game.
Overall HB Edison ranked number one in the state last week, was handled very well by Los Alamitos. Defensive adjustments by Coach Aaron Moore were noted and effective throughout the game. Coach Moore also calls all the pitches from the sideline, as done by most of the league's coaches.
The infield was sluggish and slow (wet from last week's rain) Frankie Padulo was picked-off at first when he did a slip and fall routine trying to get back to first on an Edison successful pick-off.
Michael "Dutch" Newton is a former local high school baseball star who attended St. John Bosco and has lived long and prospered in West Orange County. He can be reached by e-mail at dutchsemisports@yahoo.com.