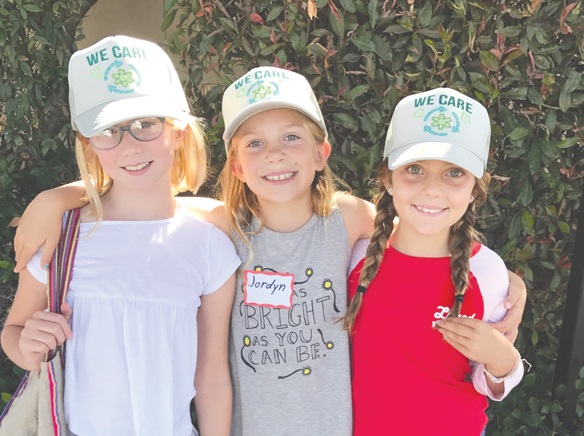 Experts say that students reach key milestones in fourth grade as they begin to understand the connected world and the roles various people play in it. For three McGaugh Elementary students, their vision has amazed adults and advisors alike as they have begun connecting kids with a very inspiring mission.
In a seemingly indifferent society, three 10-year-olds from Seal Beach, Isla Nash, Jordyn Baker and Emma Voight have decided they want to change the world. Well, perhaps not the entire world but you have to start somewhere and so start they did in their own school yard.
"I was surprised when the students came into my office," said McGaugh assistant principal Teri Malpass. What they proposed during the last school year was even more interesting to her: these girls wanted to start their own organization entitled "We Care."
Malpass said the school routinely picks up trash around the campus but the location along Seal Beach Bouelvard and PCH, coupled with the fact that they public is allowed to use facilities after hours, left more trash on the grounds than these little girls were comfortable with seeing.
"They wanted to clean up the grounds, especially the playground, and it was their own idea," she said. "So, I explained to them all of the responsibilities involved, maintaining the program, keeping track of volunteers and stuff like that," she said.
The girls were undaunted, so they launched "We Care."
"We wanted to make a difference," Isla and Jordyn said this week in an interview. They recounted their meeting with Malpass, beaming with the confidence they have used to make the program succeed.
The three girls divided their responsibilities, set up a table during lunch recess, made their own signs and lists, and slowly the volunteers began to sign up.
Once the students began signing up "WeCare" members, they would make the assignments, stay after school and supervise the clean-up in various areas.
"We made sure the area where the students play (playground) was cleaned regularly," the girls said.
They created their own hats and Malpass says they even had "their own clipboards" as they supervised the volunteers.
Getting involved with a successful program made them "proud" and "satisfied" said Jordyn. "We really think we are making a difference," said Isla. "A lot of kids are working to make McGaugh beautiful," she said.
In addition to beautifying the campus, the students learned about preservation and waste, as they noticed certain areas where large amounts of plastic stacked up and they noticed how many plastic straws were found.
"It's starting to grow. Our volunteers are motivated. It's fun," the girls said.
At end of the school year, the entire student body, parents and well-wishers gathered on the lawn (cleaned by WeCare) for their own awards ceremony. These three girls made their own certificates, presented them to the volunteers, and even had local merchants donate prizes, including certificates for custom-made VAN's tennis shoes (Orange County original).
The program was so successful that they are now looking at expanding it. The girls have high hopes and say they are currently in the process of building their own "WeCare" website, where they believe their growing "volunteer list" will only get bigger.
One day, the girls hope to expand WeCare to other areas such as "cleaning the beach" and similar missions.
For now, however, Malpass said she is advising the "WeCare" girls to "grow, but to grow slowly and carefully." The assistant principal said she told the girls in order to scale the program, they must perfect it and work on all of the systems in a smaller scale.
It's only fourth grade, but for sure the concept of little girls having big dreams is alive and well in Seal Beach. These young activists are wasting no time in making their own world a better place to live and learn. Together, these little girls are leading by example and making "WeCare" truly mean something to the students they serve.