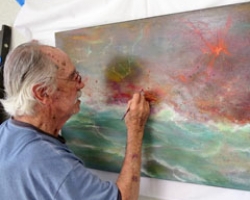 "I've been painting all my life," said 84-year-old Eugene Nardo, who has lived in Seal Beach since 1963. "I did cartoon work at an early age. Later on, I started painting beautiful ocean storms, the burning of Rome, and the destruction of Sodom and Gomorrah. My first love has got to be painting. It's just you, the canvas, and the paintbrushes. I can see in my mind what I have to put on that canvas."
Nardo also paints scenes of the volcanic destructions of Krakatoa in Indonesia and Mount Vesuvius in Pompeii, but he frequently returns to the Biblical scene of the destruction of Sodom and Gomorrah described in Genesis 19.
"I love painting Sodom and Gomorrah because it's very powerful and strong," he said. "It shows the awesome power of our Father in heaven."
In the text, Lot and his family were told to leave the cities as they were being destroyed and not look back. When Lot's wife looked behind her as they fled, she was turned into a pillar of salt. This inspired the name for Nardo's website where he sells his paintings: apillarofsalt.com.
Each painting is sold for $395, with proceeds benefitting St. Jude's Children's Research Hospital. Nardo works for four-six weeks on each.
"The fire and brimstone takes a while with a fine brush," he said. "But I like it like that. I don't want to do it in a day."
Nardo has also painted murals for offices and sculpted an 8-foot tall statue of John Wayne for the Boys' Club of Santa Ana.
Nardo has three children, six grandchildren, and two great-grandchildren, with whom he spends much of his time. His son Gino (who is a familiar presence at the Seal Beach Main Street Post Office) is also an artist, and, according to his father, inherited Eugene's talent and ability to put colors together.
"I remember as a kid growing up, he was always painting," Gino said. "He suggested that I paint and bought me my first kit."
Eugene studied in New York City in 1960 with the Italian painter Arrigo Ghedini, a man he referred to as "the master" and a protege of Salvador Dali. Nardo came to work for Ghedini because he spoke English and Italian and Ghedini could not speak English, so Nardo would schedule appointments for the painter.
"He taught me to paint water that moves," Nardo said. "You see in my paintings, the water is crazy and rapid. It takes seven different colors to make water. I learned a lot of from him. He taught me that to paint clouds, you turn the canvas upside down."
Painting may be Nardo's first love, but he has a second: singing.
"I go out and do concerts, though not that often anymore," he said. "It's amazing at my age, I can remember all the lyrics without missing a beat."
He said that he used to sit in the Metropolitan Opera and listen to the rehearsals, and that he studied with great opera singers.
"I had to give up pursuing my singing career because I had a wife and family," Nardo said. "I was really hurt because the Lord knew that was what I wanted. But he answered my prayer. It took 40 years. In my early 70s, I started singing again. My voice came back better and stronger than ever."
After initially leaving his music career, he acted part-time throughout the 1970s and 1980s in films such as "The Towering Inferno" and "Westworld," and worked as a hairstylist.
Now, Nardo considers himself retired from singing, performing only once or twice a year and focusing his time on painting.
He has traveled to several sites of his paintings, including Rome and Israel.
"I went to Sodom and Gomorrah," Nardo said. "It's flat. There's nothing there. The guide said, 'See that flat area? That was Sodom and Gomorrah.' I said, 'Where's the pile of salt?' He said, 'It's gone.'"