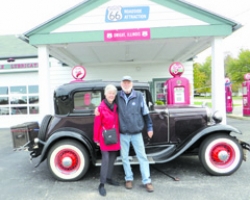 Sometimes it takes four generations to tell a story. Rossmoor resident Diane Wood has long cherished her mother's and grandfather's 1934 travel journal, a vivid account of a family's trip to California during the Great Depression. Diane has talked about recreating that journey for years. Diane's son, Brendan, completed his dissertation on the influence of place in history and culture, citing the Lincoln Highway and Old Route 66. "Place is an important factor in the construction of identity," he asserts.
"Continued interest in the Lincoln Highway and Route 66 and their influence on our history exemplifies this. The fact that my Mom and Grandpa were part of this story became something to be proud of," Diane summarized.
The dream of reenacting her mother's and grandfather's trip began to have a pulse, "What if WE retraced the trip? Some of Route 66 is still there." She mused aloud to her husband, Gerald.
"It won't be authentic unless we do it in a Model A," Jerry grinned.
Two months later, a 1931 Model A Victoria gleamed in their driveway. The flying quail hood ornament glittered against the chestnut livery of the restored vehicle. Driving around Rossmoor, a place where classic cars are especially prized, heads turned and horns saluted the grand dame of the highway. The car now had a nickname, "Betsy," for Diane's late sister-in-law.
Original 1934 Trip:
Diane's mother, Vi, and grandfather, Ike, left Grandville, Michigan, following the death of Ada, matriarch of the family Van Koevering.
Their Model A trundled along Old Route 66 packed with dishes, cooking utensils, blankets and suitcases. To save money, they rented "tourist cabins" along the road where they did their own cooking, sometimes without running water or electricity. They saw many other migrants fleeing the Dust Bowl of failed farms in Oklahoma and Kansas in search of opportunities in the west; a vignette of the American experience inspiring John Steinbeck's novel, "Grapes of Wrath" in 1939.
Model A cars had no heating, air-conditioning or shock-absorbers; break-downs were inevitable. The gas gauge was simply a porthole into the tank allowing riders to see the petroleum level. Progress on the first day was recorded as 166 miles from Grand Rapids to Chicago in 6 ½ hours.
Spending an extravagant two days in Chicago where the 1933 World's Fair had been held over an extra year, they filled the tank, paying 14 cents per gallon.
In Springfield, the ledger was reviewed with concern. Five days on the road cost $19.63, a week's wages to many at the time. Lodging accounted for $6 and an additional $2 for settling up after a minor collision with another car.
After an exhilarating day at the Grand Canyon, Vi and Ike drove a treacherous road to the Cottonwood Aerial Ferry, the only such transport across the Colorado River.
It served the public from circa 1930 to 1935 and was situated between the towns of Chloride, AZ and Searchlight, NV. This ferry was a broad platform with lightweight wood railing supported by eight spindly cables, propelled by a Model T motor in trusses overhead where the operator ran the engine. It must have taken steely resolve to drive onto the platform and ride across the yawning chasm. A substantial fee of $2 was charged for such convenience.
Accommodation in the town of Searchlight was even more frightful. Vi observed: "It has two rooms, the sides of which are wood and the ceilings covered with duck or oil cloth painted several times but not in recent years. There are plenty of windows but no curtains and not enough shades to go around. Parts of the walls are covered with tin. All the furniture, we are sure, came over in the Mayflower."
These hardships were accepted with grace for the anticipation of touring Boulder Dam (now Hoover Dam). Arriving at 10:45 a.m., they had to stand in line for an hour for their ticket and another two for a tour guide. Painfully close to their objective, another obstacle was encountered—bureaucratic red tape. Out-of-state license holders had to apply for permits to enter California. Because the car had been registered in the mother's name, it took selective omission of facts to pass through their final port of entry.
Saturday, Oct. 21, 2017:
Jerry and Diane flew from LAX to Grand Rapids where they had shipped Betsy 10 days earlier. The dash light had been left on the whole time, which drained the battery. After jump-starting the car, it still did not run correctly so Diane called her mechanic (in Costa Mesa) on her iPhone. Diane set the device on speaker phone, holding it under the hood while Jerry followed the mechanic's instructions. As the diagnostics progressed, rain began to fall. Just as Jerry feared, a replacement part was needed.
AAA towed the lame dame to the home of the local Model A expert. After 3-1/2 hours, Betsy was road ready. Grandville Museum proved a treasure trove of family genealogy. Docents had prepared a packet of documents on the Van Koevering and Oppenneer family records that Diane had requested in advance. In neighboring Zeeland was a single-story brick newspaper office, home of The Zeeland Record. It was founded by Grandpa Ike's brother Adrian, now owned and operated by the founder's two great-grandsons.
The "Betsy Expedition" stopped in Chandler, Oklahoma to meet Jerry McClanahan author of their reference book for the trip, "Route 66: EZ Guide for Travelers."Truckers and bikers rode alongside throughout the Midwest where they waved, honked and gave the "thumbs up" to Betsy. Those behind observed the wicker trunk strapped to the back of the cab with a decorative Route 66 Shield, NASA and JPL company logos below the banner: 1931 Earth Rover / California or Bust.
The town of Tucumcari appeared much as it might have six decades ago. Its stretch along Old Route 66 is dotted with themed hotels, gas stations and diners. During this drive, Betsy's water hose worked loose. Duct tape was used to make temporary repairs and it was discovered the turn-signal unit had filled with rainwater and needed replacement.
La Posada graces the Historic District of Winslow, Arizona. Designed by architect Mary Coulter in the Mission Revival/Spanish Colonial Revival style, it was conceived to offer first class fare and accommodation to patrons of the Atchison, Topeka, and Santa Fe Railroad and partnered with the Fred Harvey Company. Jerry and Diane enjoyed a reprieve here during a sumptuous breakfast.
Santa Fe, New Mexico, was founded in 1607, the only state capitol held continuously for over 400 years. San Miguel Mission and Palace of the Governors are its two oldest structures, both built in 1610. Diane and her mother before her shopped at the same venue for hand-crafted Navajo silver jewelry embellished with turquoise and coral.
Loretto Chapel in Santa Fe, New Mexico was an itinerary imperative. According to local legend, Sisters of the Chapel needed a stairway built to save space for pews. In special petition, they made a novena (a nine-day prayer) to St. Joseph, patron saint of carpenters. On the ninth day, a carpenter showed up. He created an intricate, beautiful spiral staircase to the choir loft, crafted entirely without nails or metal reinforcement. The carpenter would not accept remuneration for his labors and reportedly vanished as mysteriously as he had appeared.
Outward bound from Albuquerque, Betsy required an oil change. During the conversation with the Jiffy Lube mechanics, it was discovered they hailed from Southern California, one from Los Alamitos and the other from Bellflower.
One of the last historic stops along the famed road was the Wigwam Motel in Holbrook Arizona, built in 1950 by Chester Lewis. Delightfully quirky and nostalgic, it has been admitted to the National Register of Historic Places. Each guest cabin is designed to resemble a tee-pee and interiors feature a southwestern motif. Diane withheld a five-star rating for only one reason, "It was during the World Series and you could hear shouts from the neighboring tee-pee."