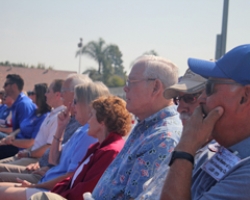 Crowds of Griffins both young and old flocked to Los Alamitos High School Saturday morning in honor of the school's 50th anniversary.
The festivities began on the LAHS football field where guest speakers including Superintendent Dr. Sherry Kropp, California senator Janet Nguyen, Los AlMmayor Shelley Hasselbrink, KIIS FM host Tanya Rad, first LAHS class president Tim Thomas, Air Force captain and alumni Nathan Welch, and school board member Karen Russell spoke to a packed audience.
Dr. Kropp shared how the high school has fostered a true sense of community throughout the town.
Nguyen presented the school with a beautifully framed Senate Resolution that Principal Brandon Martinez says he plans to display in the school's main office.
Hasselbrink reminisced about what Los Alamitos looked like 50 years ago: miles of farm fields and an airbase. She shared stories about how far the city has come, even including a bit of trivia about the origins of Katella Avenue.
She explained how it was named after a local farmer's two daughters, Kate and Ella, raising a collective "wow" from the crowd.
Rad shared how Los Al's incredible teaching staff encouraged her to follow her dream of working in the music industry, and Welch expressed his immense gratitude for having attended a school that promotes the military and the values that carried him through his personal military experience.
Los Al's award winning arts programs showcased their talents to the audience.
The LAHS Marching Band debuted its new Peter Pan themed competition set, two of Los Al's prestigious choirs gave a unique rendition of "Let it Be," and the song and cheer team entertained the crowd with their inexhaustible Los Al spirit.
The performances culminated in a re-creation of Los Al's Homecoming halftime show, involving members of marching band, choir, and song and cheer as well as several current Los Alamitos Unified School District middle school and elementary students.
"It was cool to perform in front of all of the alumni and give them a look at what Los Al is like today," said Sofia Villanueva, a senior and marching band member.
Following the opening ceremony, the festivities continued across campus.
Various rooms throughout the campus featured showcases by Los Al's visual arts, orchestra, jazz band, dance and improv programs.
The event also included several family friendly activities including hair braiding, face painting, and inflatables.
Food options ranged from food trucks, pizza, and popcorn, to ice cream and other sweets.
The gym served as a reception area for Los Al alumni to meet with their fellow former classmates.
The school's first graduating class had an impressive attendance at the event.
"I talked to several of the people in the very first graduating class, and they keep very close contact," said Karen Russell, a school board member.
"It's very exciting for them to all see each other," said Russell.
Christine Meyers, a member of Los Al's very first graduating class, says that the event gave her the opportunity to reminisce on her high school years.
"I was part of the first graduating class, so it was really amazing," Meyers said. "I'm reconnecting today."
For information about Los Alamitos High School, visit https://www.losal.org/Domain/68. For information about Los Alamitos Unified School District, visit www.losal.org.