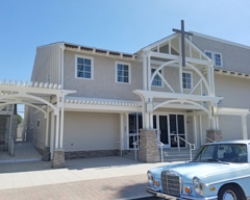 Finishing up a renovation project is an accomplishment no matter the scale of the build. Whether you're a homeowner completing the build of a new room or if you happen to be a local church revamping an entire property, breathing a sigh of relief at the end of the project is the light at the end of the tunnel.
Grace Community Church in Seal Beach is close to that light.
The church held a groundbreaking ceremony in January and recently finished all its renovation construction in September.
With the renovation, the property has improved handicap access, an expanded patio, a new roof, visually appealing landscaping, a new church sign and a children's playground area.
The exterior walls are coated in the hues of grey, blue, and white, which complement Seal Beach's small seaside town feel.
Now you might be wondering if the construction is done, hasn't the church already reached the threshold of post-renovation relaxation?
Well, you'd be right except there is one last hurdle: less than a third of the project costs still need to be paid for.
For the past year, the church raised funds to pay for the renovation and has paid more than two-thirds of the construction costs already, all without taking on any loans until the month of June.
So now, the last fiscal hill it needs to cover is paying off the final stage of renovation that the church calls "wave 3 construction." Grace is looking to avoid entering the new year with a large amount of debt and is seeking the support of the community.
"The community overall has praised the renovation project. In fact, the support has been overwhelmingly generous," said Jamie Townzen, of Grace Community Church.
On Oct. 22, Grace will be holding a celebration picnic lunch at noon on its new lawn in the effort to raise the last bit of funds it needs.
"In an effort to help the church celebrate the culmination of the construction, while continuing to raise the funds necessary to pay for it, many Main Street restaurants have offered to donate food," said Townzen.
Hennessey's, Old Town Café, Sweet Jill's, O'Malley's, ZPizza, and Javatinis will be donating food for the picnic.
"The community is welcome to celebrate this momentous occasion with the church, and are asked to likewise support the benevolent businesses for the kindness they've shown to the church," said Townzen.