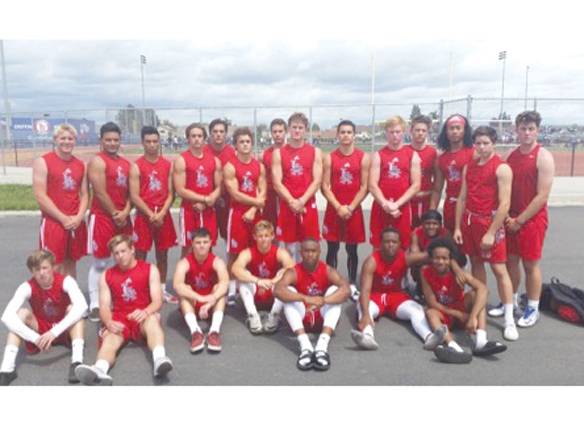 Last Saturday (May 12) was the 3rd annual Orlando Scandrick Elite 7v7 Tournament. Orlando is a 2004 graduate of Los Alamitos High School. as a two-way player (wide receiver and cornerback). At the end of his senior season, he received first-team Long Beach Dream Team and first-team All-Sunset league honors. After playing 3 seasons for Boise State, he was drafted by the Dallas Cowboys and played for them 10 seasons. Currently he is playing cornerback for the Washington Redskins.
Most of the high schools participating Saturday are considered the best in southern California: Mater Dei, Serra, St. John Bosco, Westlake, Arcadia, Compton, San Pedro, Troy, Notre Dame, Alemany, Downey, Calabasas, Narbonne, Burbank, La Habra, Warren, Western, and Los Alamitos.
During the morning session each team of 7 plays 3 other schools. 7 on 7 football is offence vs. defense with 7 players on each side. No down linemen.The game is 90% passing which showcases quarterbacks and receivers vs. linebackers and defensive backs. The won/loss record determines placement in the afternoon for a single loss elimination. Our home school, Los Alamitos did not have an easy morning, coming away with 1 win and 2 losses. Each of the losses were very close games. In the afternoon Los Al lost it's first match vs. Serra and was through for the day.
In the final matches Serra beat Mater Dei, and Bosco beat Notre Dame. The championship match was Bosco over Serra. All of these teams are the football teams to watch this Fall.