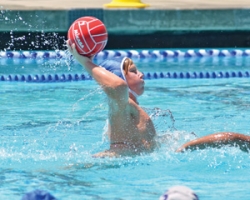 The United Water Polo Club 10U team, made up of kids from the Sun Region, placed first in the country, winning the Gold Medal at the National Junior Olympics Tournament that took place July 30 through Aug. 2.
"Winning this National Championship is an amazing accomplishment for these kids," said David Meyer, a parent of a team member. "Many of the players live in the Marina Hill area of Seal Beach."
After winning their first four games, United lost their fifth. They had to go though three straight shootouts to get to the Gold Medal game. United beat Commerce 9-5 to win the Gold medal and the 2011 National Championship.
Cal Meyer, United's goalie, was named 2011 Swim-outlet.com Junior Olympics 10, mixed championship most valuable player.
The Championship game was broadcast live via the web, and a highlights program will be televised on Universal Sports at 10 p.m. Aug. 23.
"It is rare and unique for a team on any level to win a National Title," David Meyer said.
In addition to the National Title, the team also won every tournament it entered in 2011 including first place in:
2011 KAP7 International
2011 Turbo Orange County Cup
2011 San Diego Cup
2011 Cal Cup (California State Championship)
2011 Junior Olympics Regional Quals
2011 United States Club Water Polo Championships
2011 Nat'l Champs Jr. Olympics  Gold Medal
Team members include: Cal Meyer, Daniel Isogawa, Reilly Duncan,Katie Dvonch, Julia Vucurevic,Daniel Mori, Joe Inoue, Ian Minsterman, Beckett Millar, Charlie Pedneault, Soleil Nguyen, Travis Hindley, Amy Flanders, Luke Garrison.