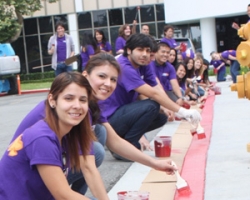 Kohl's Corporation Associates in Action recently volunteered at Miller Children's Hospital Long Beach, painting curbs and planting trees on the medical campus.
More than 40 employees of the Kohl's Corporation recently came together at Miller Children's Hospital Long Beach, where there is also a Kohl's Injury Prevention program, to further improve the hospital campus for patients and their families.
Through the Kohl's Associates in Action volunteer program and the Kohl's Keeping Kids Safe Initiative at Miller Children's, employees from local Kohl's stores were given the opportunity to volunteer their time at the hospital making various improvements to the campus.
Associates participated in tree planting, painting curbs and making get well cards for the patients at Miller Children's along with hearing updates about the Kids Keeping Kids Safe safety initiative at Miller Children's.
For every Kohl's store that participates in an Associates in Action community volunteer event, the partnering children's hospital will receive a $500 dollar donation.
"We care about the communities that we do business in and we take pride in our associates and support their volunteer efforts," said Dana Pack, regional loss prevention director, Kohl's Corporation.
"We're proud to work for a company that wants to make an impact and our primary partnerships are the children's hospitals in our community," said Tracie Wickenhauser, regional vice president of Southern California, Kohl's Corporation.
About the Keeping Kids Safe Program:  As part of the Kohl's Cares initiative, Miller Children's Hospital and Kohl's established the Keeping Kids Safe to educate and keep kids safe once discharged from the hospital.
Kohl's Keeping Kids Safe helps provide car seats to families who don't have them upon discharge, helmets certified by the U.S. Consumer Product Safety Commission and educational materials promoting preventative care.