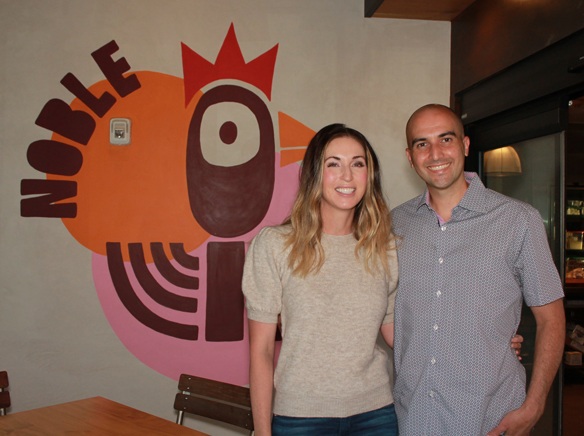 When interviewing Steve and Sidney price for the story on their restaurant Noble Bird, I had a chance to sample some of the food. I am not a food critic, or any kind of culinary expert. I cook for myself, but nothing too exotic.
I certainly don't have any of the allergy restriction that the Noble Bird has to avoid, so I wasn't sure what to expect. But I expected it to be good. My expectations were met and exceeded. The chicken alone was tasty and juicy. But the three topping sauces I tried were all exceptional.
I tried the G-sauce, the pepper aioli and the chimichurri. My favorite was the chimichurri.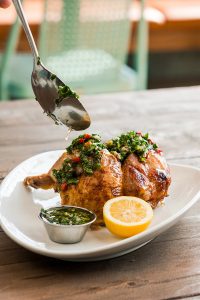 The menu is created by Executive Chef Andrew Bice, who studied at Scottsdale Culinary Arts and the Le Cordon Bleu College of Culinary Arts. He first became interested in cooking in his grandmother's kitchen as a child. He followed that interest into what is now an 18-year career in culinary arts.
"I really fell in love with the restaurant industry and everything about it – it's exciting and fast-paced," Bice said.
When not working, the Lake Forest resident plays volleyball, competes in triathlons and spends time with his wife.
Noble Bird also serves beer and wine. While I did not get a chance to sample those during my first visit, I certainly intend too when I return. Noble Bird uses several local brewers for their beer, including Ten Mile Brewing Company, Steady Brewing and Ambitious Ales  both based in the Long Beach area.
Ten Mile is a father and son business, that began in 2012. They have a taproom in Signal Hill.  For more on Noble Bird, visit noblebirdrotisserie.com.
Noble Bird
2nd and PCH
6460 E Pacific Coast Hwy Suite 125
Long Beach, CA 90803
Ted Apodaca is the editor of the Sun News and Catalina Islander. He can be reached at editor@sunnews.org, or 562-317-1100. Follow him on Instagram: @tedapodaca
Note: This story has been updated to add breweries used by Noble Bird