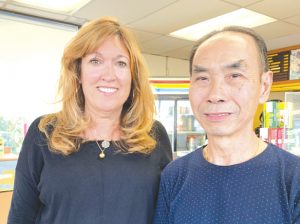 It started with a simple suggestion online.
Now, the story of people buying doughnuts in bulk to help a local shop owner spend more time with his sick wife has gone viral.
And it's showing the world just how big a heart the Seal Beach community has.
It started last month when Old Town resident Dawn Caviola visited Donut City on 12th Street and Pacific Coast Highway. She chatted with the owner John Chhan, who has owned the shop with his wife, Stella, for 28 years. Stella was the familiar and friendly face serving up hot coffee and sweet treats, while John worked in the kitchen. But Stella wasn't there that Sunday morning. As John explained to Caviola, Stella had suffered complications from an aneurysm and was in a rehabilitation facility.
"It crushed my heart," Caviola said about the news during an interview last week. "I just couldn't take it." (The Sun first reported on this story in the Thursday, Oct. 25, print edition, and you can find the original story on this website.)
Caviola said she wanted to do something to help the couple that she had always viewed as extremely hard working. She came up with an idea she thought was simple and people could easily do – buy doughnuts so John could sell out and close up shop early to be with Stella.
"It's the gift of time," she said.
Caviola shared the idea in her first official post on Nextdoor.com. The community's response has been tremendous and people's thoughtfulness, and the Chhan family's graciousness, has now garnered media attention that spans the globe.
Since the Oct. 16 post, supporters from Seal Beach and beyond have descended on the shop as early as 4:30 a.m. buying up sweet treats by the dozens.
Last Thursday, Cynthia Rosenfeld from Newport Beach made the trek at 5 a.m. to support the store after her first attempt left her empty handed. "I got here at 6:29 a.m. and there was nothing left so I thought I should try to come back."
That same morning, Leisure World resident Marcia Palmer stopped by before 6 a.m. to buy two dozen doughnuts for workers remodeling a neighbor's home. "It's a good thing to help out," she said.
As she picked out doughnuts, Melanie Overett of Long Beach told John about her own experience recovering from an aneurysm five years earlier. Overett reassured John, Stella "is going to be fine." Overett said her son told her about Donut City and he encouraged her to go support the shop.
Thanks to customers like these, Donut City has been selling out its doughnuts, croissants and muffins hours before closing time every day for more than three weeks. Some days the trays are bare as early as 7 a.m., John said in an interview last week. The shop opens at 4:30 a.m. and usually closes at 2 p.m., but these days you're lucky if the shop is still open at 10 a.m.
John said he's making the same number of doughnuts he's always made, around 40 to 50 dozen a day, because he's happy to sell out quickly to have more time with Stella.
"I don't need any more," John said. "I want the time."
As the community's generosity has grown, so has the media interest. John was too shy to be photographed when the Sun first covered the story published October 25. Now, he's been featured on local TV, national network and cable news broadcasts and international newspapers.
The morning of Nov. 7, camera crews from three media outlets were set up inside Donut City, including CBS News, NBC News and the show Inside Edition. John cleaned up the shop between interviews.
The next day, the Helpful Honda team was there paying for everybody's doughnuts. The shop sold out before 8 a.m. and the crew stayed on to clean the shop's windows.
Last Friday, at the request of a Sun reporter, Caviola returned to Donut City weeks after her posting sparked so much support and publicity.
"I haven't been in there since it happened because they're always sold out before I go to work," Caviola said with a laugh. But she was quick to say she never wanted the story to be about her and had turned down many requests for interviews.
It was around 8 a.m. when Caviola stopped by the shop with her husband. The doughnut trays were empty. When John learned it was Caviola who had come up with the idea, his heart was visibly full. A smile grew on his face, his eyes grew soft and he thanked her repeatedly. They held hands.
"They all know you," Caviola said of the community. "I'm just happy for you. You're a true hard worker." John nodded and smiled.
The Chhan family's story is one of immigrants making a life in America. Stella, who was born in Hong Kong, and John, who is from Cambodia but is Chinese, met in Miami, Florida in the 1970s. They settled in Orange County and bought Donut City in 1989. They've been serving the community in their modest shop ever since, only closing on Thanksgiving and Christmas.
That same community has been supporting them back. John has repeatedly expressed his gratitude in interviews and said he's been updating his wife about everything. "She appreciates all the community support," he said. Stella is doing better in her recovery, according to John. It's news he tells the many, many customers who inquire about her as they buy doughnuts and fill up the shop's tip jar.
"My family and I are eternally grateful for all of your support!" son Jeffrey Chhan wrote on a Seal Beach Facebook page on Nov. 6. "I am proud to have grown up in Seal Beach, having gone to McGaugh Elementary throughout my early years. You guys are truly something. We're so happy that this story has been shared throughout the countless news outlets as it has truly touched the nation. There's still so much good in the world."