An event inspired by the late Chuck Wackerman will celebrate its 50th Anniversary this Saturday, just a few months after the community lost the fabled musician and music teacher.
In the early 1970s, Wackerman began the Class Notes concert series to showcase aspiring student jazz musicians and to raise money to support the programs that produce them.
Justin Padilla, Director of Jazz and Orchestra at Los Alamitos High School, has announced Los Al Jazz Spotlight Concert will be held this Saturday, March 25 at the Los Alamitos High School Performing Arts Center and pay tribute to the late music teacher.
Padilla, who has carried this tradition forward under the name Spotlight concert series recently said "Chuck had the experience of twenty teachers [combined] … and the heart of a saint. One of his superpowers was the ability to make a band of middle school musicians perform as clean as a professional band."
"With a master like that … there are only two things you can do; try to copy his approach and avoid attending the same festivals he took his band to," he said.
This annual Spring concert features Los Alamitos High School's three levels of jazz bands, along with the Oak and McAuliffe Middle school bands that feed emerging musicians into the high school's outstanding program.
The "Spotlight Jazz" concert, an annual fundraising event for student musicians, generally features hand-picked professional musicians who perform masterclasses with the students in the weeks leading up to the event.
Accordingly, in honor of Wackerman, who founded the event, Padilla said two of the three professionals for this year's event are directly from his family, including drummer Chad Wackerman, and singer, Sophia (Wackerman) James.
Trumpeter John Deversa will also perform as a guest artist this year, he said.
Chad Wackerman, the founder's son, is a phenomenally skilled jazz and rock drummer, Chad is an authority on the teachings of Murray Spivack [Murray taught Vinnie Colaiuta, David Garibaldi, Louis Belson, Brooks Wackerman and many others.]
Chad has amassed a remarkable body of work including a seven-year association with Frank Zappa. He has recorded albums and toured with artists as diverse as James Taylor, Barbara Streisand, Steve Vai, Andy Summers, Men At Work, Ed Mann, Albert Lee, Colin Hay, Dweezil Zappa, Pasqua/Holdsworth/Haslip/Wackerman Group, Terry Bozzio, Carl Verheyen and David Garfield. He is a first-call studio drummer and world-renowned educator.
Sophia James (her birth name is Sophia Wackerman) is Chad's daughter and after an electrifying appearance on American Idol, she is emerging as a star in her own right.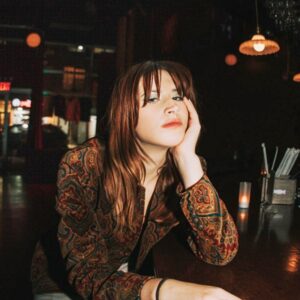 James is a singer, songwriter pianist and global jazz studies major, and she describes her music as a mix of rock, soul, pop and fusion. In an interview with UCLA Newsroom, she discussed her singing pursuits at UCLA, her family's musical background and an unexpected compliment she received from Katy Perry.
"My late mother was a professional singer, so I picked up singing pretty early on from hearing her sing around the house all the time. I think as soon as I was conscious enough to form my own thoughts, I knew I wanted to sing for the rest of my life," said James.
John Daversa is a distinguished trumpet-player, composer, arranger, producer, bandleader and educator. He is a multiple Grammy Award winner and nominee and the recipient of many other awards and honors. In addition to his active career as a performer and recording artist he is currently Professor and Chair of Studio Music and Jazz at the University of Miami's Frost School of Music.
Daversa has served as the musical director for the popular TV actress and singer Renee Olstead, touring internationally and appearing on television shows such as The Oprah Winfrey Show, Late Night with David Letterman, and the Today Show. He composed numerous commissions for various universities and chamber music organizations, and in recognition of his songwriting, won an IAMA Songwriting Award.
The concert will take place in the high school's Performing Arts Center at 7 p.m., with dinner served in the new media center at 6 p.m. There is a meet and greet with the artists as well beginning at 5 p.m.
For tickets, scan  on the QR code, email losaljazz.spotlight@gmail.com or visit www.losaljazz.seatyourself.biz.
Editor's Note: David Nicholas Somlo contributed reporting to this story.